Updates on the 2020-2021 Academic Year
SVA continues remote instruction, with select facilities accessible by appointment. Click below for updates.
Studio Visits: Meeting Artists Where They Work
May 23, 2016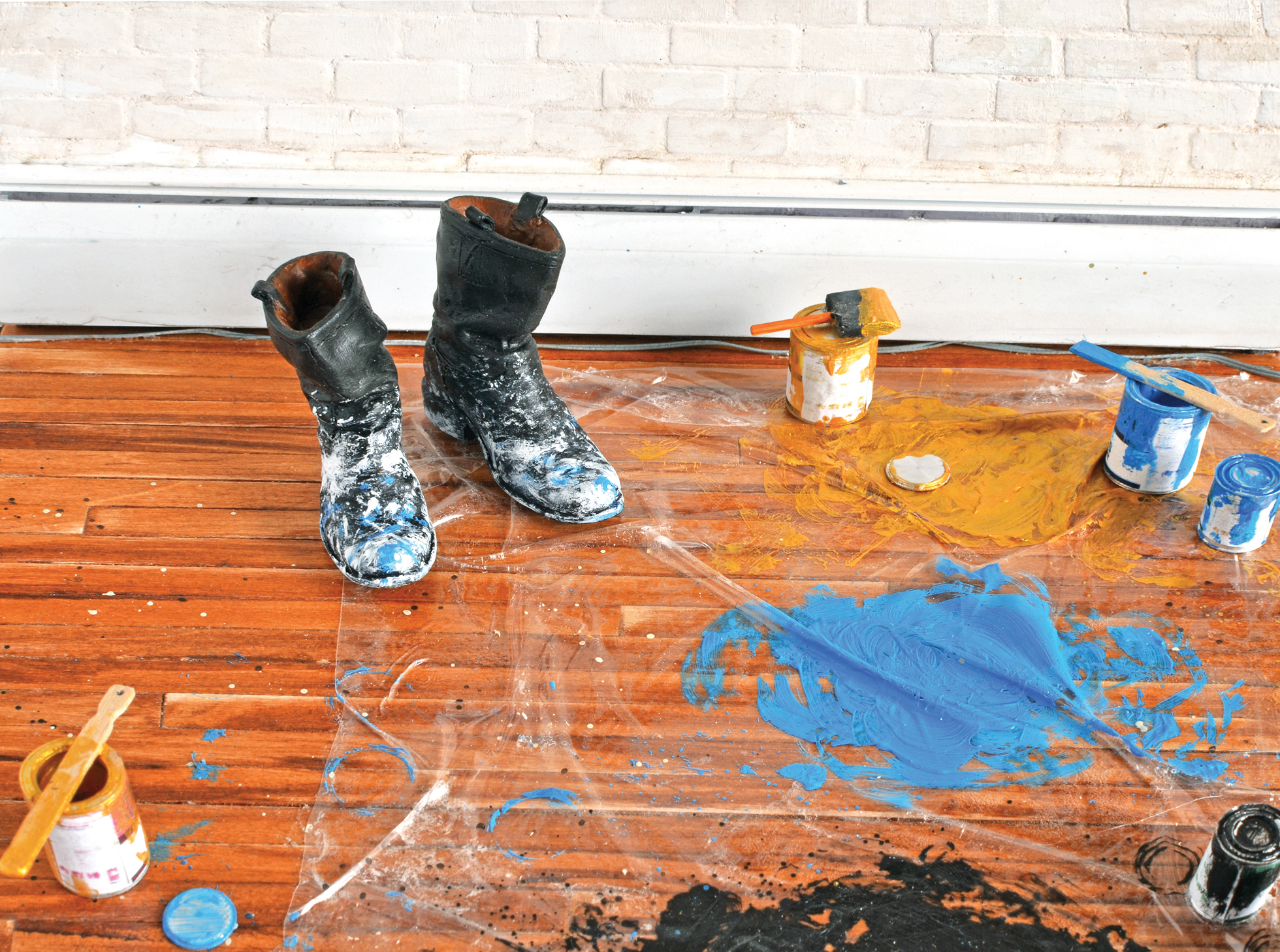 You could easily miss it. What first looks like an empty storefront on busy Graham Avenue in Williamsburg, Brooklyn, is actually the entrance to the studio of artist Chris Martin (BFA 1992 Fine Arts). The place is a former flower shop, still sporting its original ornate stone floor, but the floral arrangements are long gone, replaced by art books in every available nook. On this November day, Martin is hosting Sarah Trigg's MFA Fine Arts Field Work workshop; his is one of 30 studios the class will visit in the fall 2015 semester.
Trigg's course began after she guest-taught a couple of classes at SVA a few years ago. An artist and writer, she had recently finished her book Studio Life: Rituals, Collections, Tools, and Observations on the Artistic Process (Princeton Architectural Press, 2013), a study of working artists' spaces and methods, and had come to consider studio visits essential to any artist's education and development. "They force you to look at things with a fresh eye and through a perspective that you may not have considered," she says. "It's like a surgeon talking to another surgeon."

In 2014, Trigg began teaching Field Work, which is wholly dedicated to studio visit, in collaboration with sculptor and faculty member James O. Clark. The course soon became so popular that the department began offering two sections, one taught by Clark and the other by Trigg. "We live in a city that's incredible for art," says MFA Fine Arts Chair Mark Tribe, "and Field Work classes are all about getting out, visiting artists in their studios, going to exhibitions and galleries and museums and alternative spaces and taking advantage of the city."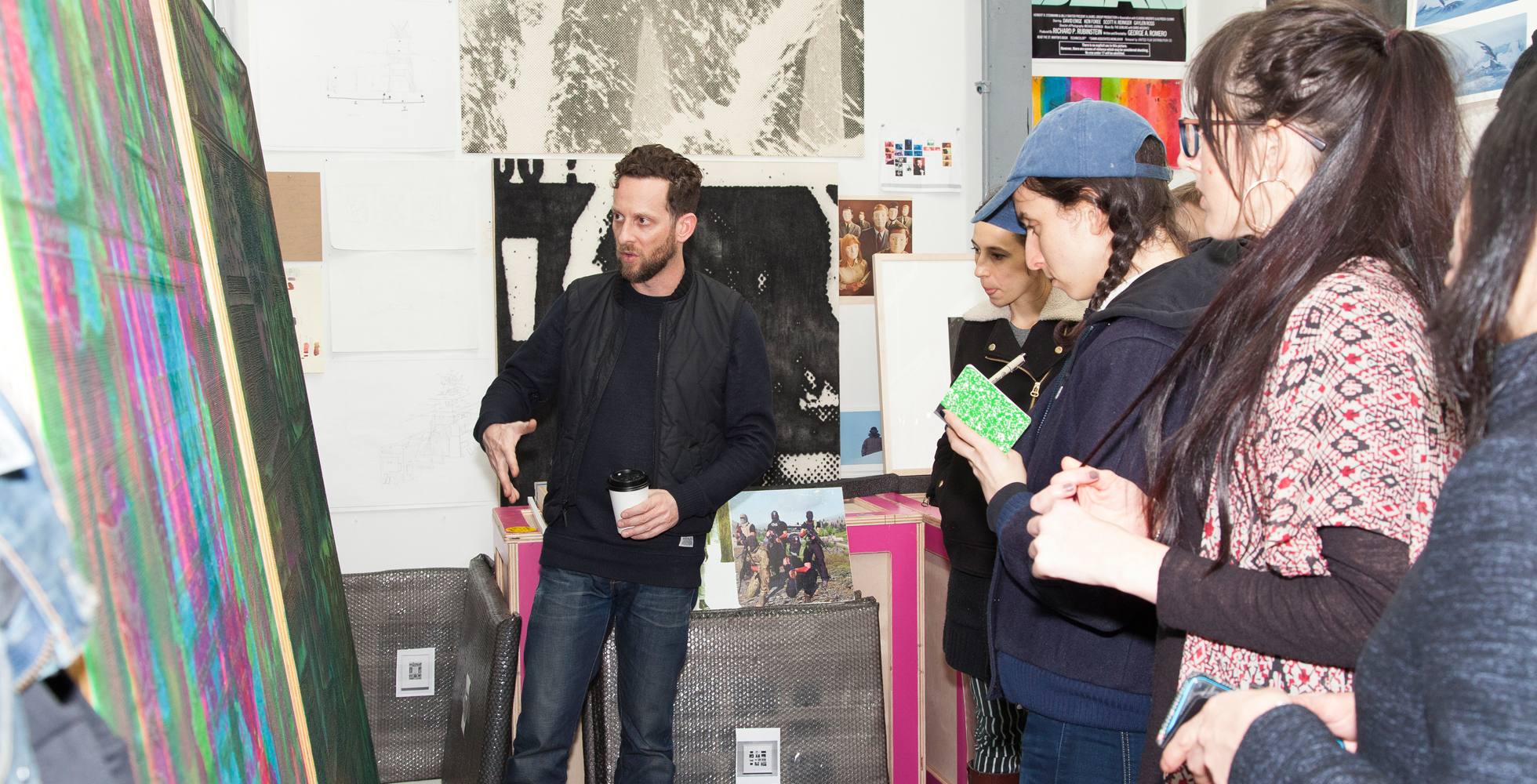 Martin and his two assistants meet Trigg's dozen or so students near the studio's entrance and walk them down a narrow, book-filled hallway into a main work area. Collage-and-paint works are stacked along the walls. Martin is preparing for a late spring show at the Kordansky Gallery in Los Angeles, and a scale model of the gallery is set up on the floor with small reproductions of his work arranged on its walls.
After looking around for a while the students sit down on any available surface, and Martin begins talking about his career and his creative process, answering questions about everything from his art therapy background (he worked as an art therapist with AIDS patients for 15 years) to how he is able to get his extra-large canvases out of the studio (by cutting the wooden frames). An artist with a neighboring studio stops by partway through and stays to listen. Occasionally Martin's assistants chime in, and the conversation's ebb and flow gradually reveals the thinking and methods behind his work.
"The studio is an extension of an artist's inner world, their psyche, and you get to see it in visits like these," Trigg says later. "It's incredibly intimate. You're climbing into a very personal space."
"The studio is an extension of an artist's inner world, their psyche, and you get to see it in visits like these."
On another day Trigg's class visits the studio of her fellow MFA Fine Arts faculty member Miguel Luciano, whose work often engages the public outside of the gallery. Luciano's space is filled with pieces from throughout his career. At the end of the visit, the students gather around Pimp My Piragua, a public art project that was commissioned by the Queens Museum in 2008: a functioning shaved-ice cart in gleaming chrome and orange, tricked out with a built-in stereo and video screens. Luciano explains to the class how Pimp My Piragua, originally conceived as a celebration of Latino culture and entrepreneurship in New York City, was later repurposed for a 2015 protest in Central Park against Shell Oil's Arctic drilling. The event was arranged by the Yes Men, a prank-pulling team of activists, and Luciano, wearing a Shell-branded uniform, served "last-iceberg" snow cones to passersby as his cart's screens showed climate change-themed images. The conversation illustrates a key lesson of Trigg's course, and of Studio Life: that studio visits allow artists to share objects, tools and back stories that are often obscured from public view but, once revealed, illuminate the artistic process.
"When you don't have a personal connection to the artist, you can see the work and you can read about it and you can also have a dialogue with others about it," says Scarlett Lingwood, an MFA Fine Arts student enrolled in Trigg's course. "Having first-person knowledge about how the artist is working, and what their concepts are, makes it possible for you to perceive the work another way."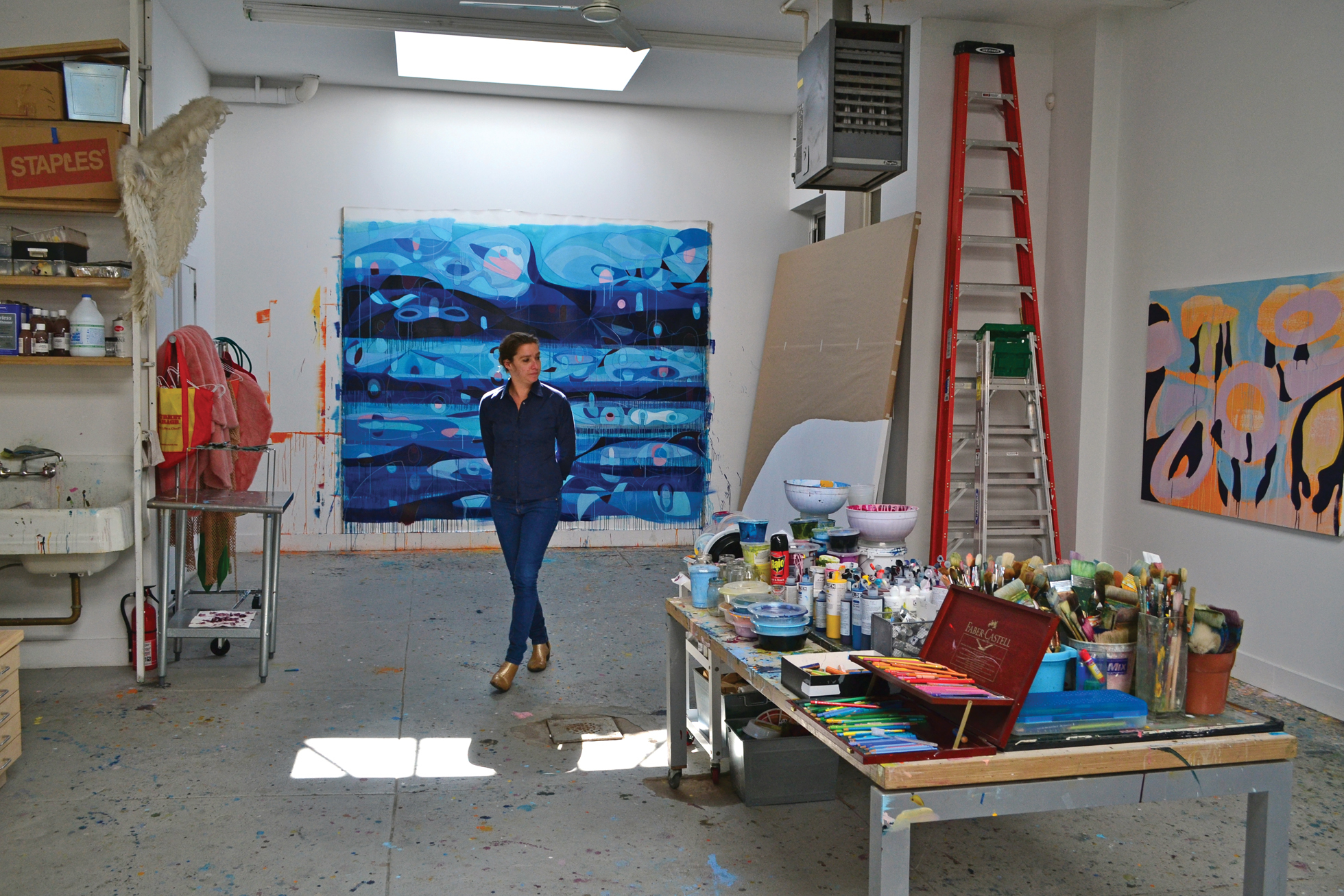 Artist and writer Joe Fig (MFA 2002 Fine Arts, BFA 1990 Fine Arts) has also made the studio a subject of his work. His books Inside the Painter's Studio (Princeton Architectural Press, 2009) and Inside the Artist's Studio (Princeton Architectural Press, 2015) feature interviews and visits with such prominent artists as Tara Donovan, Tony Oursler and Laurie Simmons, and he's recreated studios—and the art found inside of them—through his paintings, sculptures and drawings.
"I've always been interested in people and people at work and people contemplating," Fig says. "And in graduate school I would visit other students' studios, and each space would be unique. I began to look at the work people were making and how they set up those spaces and I started looking at them for creative possibilities. What I found was a form of portraiture, which is something I've been interested in for a long time. How do you make a contemporary portrait, or an 'indirect portrait'? Through depicting people's space, their tools, their environment."
One of the artists profiled in Inside the Artist's Studio is Fig's former classmate Kate Gilmore (MFA 2002 Fine Arts). (A detail of Fig's reproduction of her studio—shown below—graces the book's cover.) According to Gilmore, the appeal of Fig's (and Trigg's) investigations is clear. "People are always interested in process," she says. "They want to know how something comes about. Not just the evolution of the idea, but how is the work made, where is it made and what is the process? Process is 95 percent of it. So people want to know what that looks like."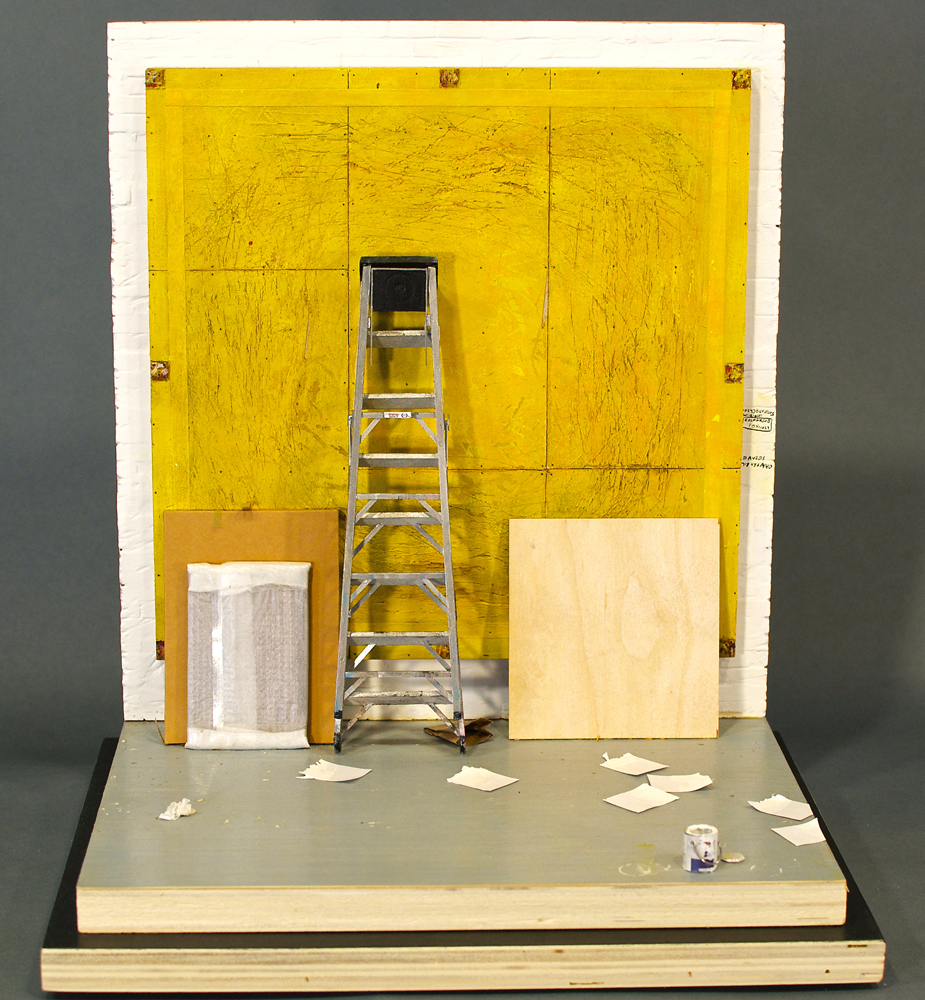 This curiosity is evident, and widespread. In the summer of 2015, artist Annette Wehrhahn, an assistant to the chair of SVA's MFA Art Writing Department and co-founder of the Soloway Gallery in Williamsburg, introduced her Secrets of the Studio: Artists' Visits course, offered through SVA's Division of Continuing Education. The initial session drew a diverse group of students, many of whom were not artists themselves but were curious about how artists work. "I had a PhD candidate in engineering, fashion designers, all kinds of folks," she says.
One of Wehrhahn's goals in creating the course was to inspire more active engagement with artists' work. "The experience of seeing the operations of a studio and works in progress is much different from visiting an exhibition in a gallery," she says. "You get to ask questions, learn about an artist's process and see the environment they create for themselves."
"The biggest thing I get out of studio visits is an appreciation of the artist's persistence—the amount of work and the time that goes into making something."
Of course, as art forms evolve so do artists' needs. Though plenty of artists continue to paint, draw and sculpt, there are many who are creating through nontraditional means and media, and their work spaces reflect that. "I know artists, very successful artists—some of whom teach at SVA—who don't even have studios," Mark Tribe says. "Their laptop is their studio. Their apartment is their studio. Their life is their studio." As artists continue to explore more ephemeral, performatory or digital-media works, the idea of the studio visit will evolve as well.
"There's a ridiculous romanticism of the artist in the studio," Gilmore says. "Sexy and dirty, toiling away. Artists are sexy to people who aren't artists. In reality, it's not a sexy business."
Sexy or not, an inside look at this business can make a difference for those who are learning not only how to make art but also how to make an artist's life. "The biggest thing I get out of studio visits is an appreciation of the artist's persistence—the amount of work and the time that goes into making something," Fig says. "Even the most successful artists can be as insecure as students. They come out with a show and then they think, 'What am I going to do next?' They're just like everyone else and they all have struggles. I don't think that ever goes away."
Jeffrey Perkins is director of Communication at SVA.

This article appears in the spring 2016 issue of Visual Arts Journal.