Updates on the 2020-2021 Academic Year
SVA continues remote instruction, with select facilities accessible by appointment. Click below for updates.
SVA Students Hit Madison Avenue with Stylish 3D Designs in 'Hemlines from Skylines'
September 9, 2019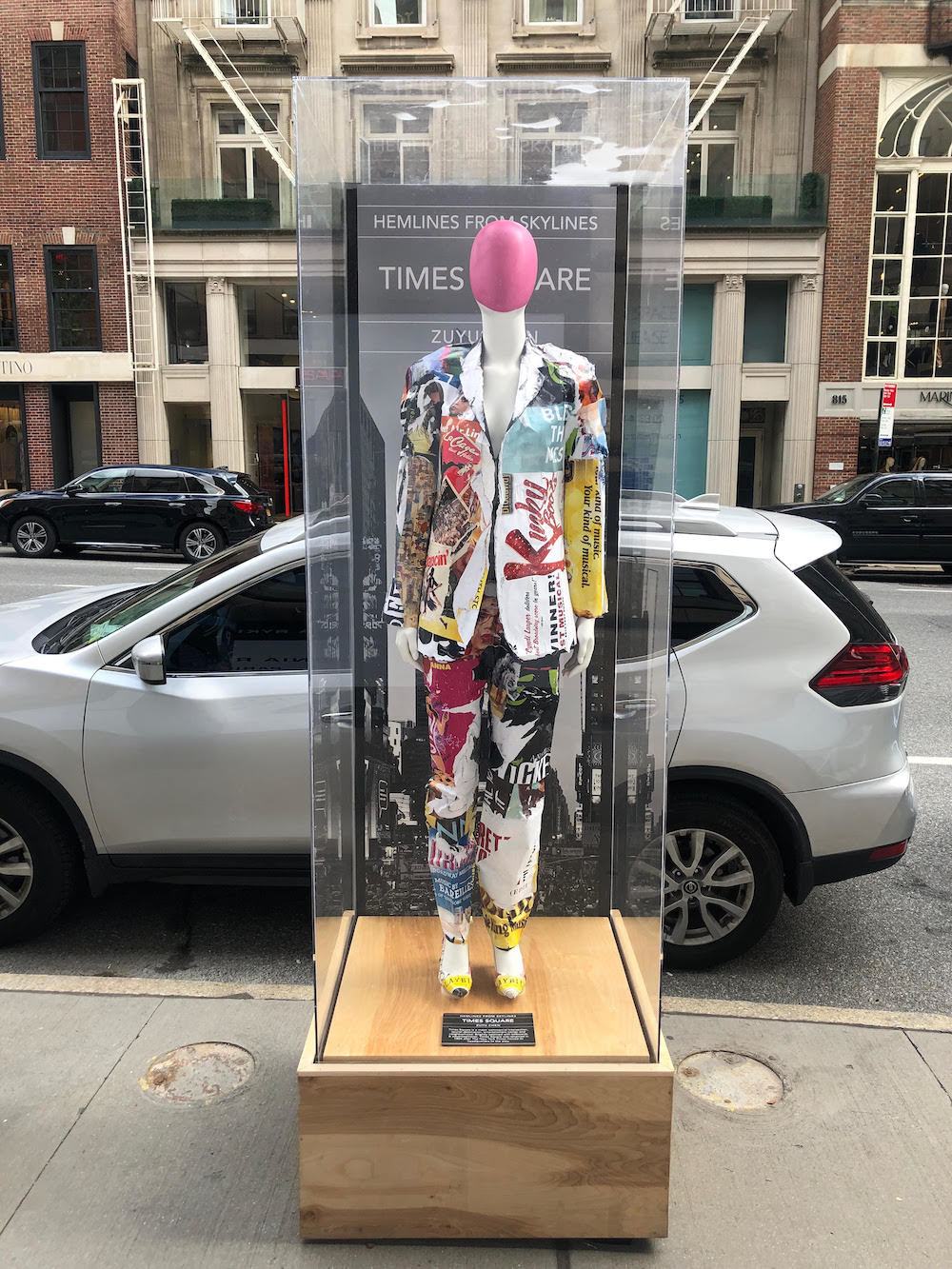 Perfectly timed to NYC's Fashion Week is the launch of "Hemlines from Skylines: Architectural Fashion," featuring over-the-top garments created by students from SVA's BFA Design and BFA Interior Design programs. Held in partnership with the Madison Avenue Business Improvement District (Madison Avenue BID) as part of its "Madison Avenue Salutes Fall Fashion" event through September 30, "Hemlines from Skylines" consists of more than 18 sculptural dresses, suits and other garments contained within 8-foot tall glass cases and set along the Madison Avenue's premiere shopping corridor from East 61st to East 79th Streets. The designs reference costumes worn by attendees of the famous Beaux-Arts Architects' ball in 1931, which celebrated the new age of skyscrapers in Manhattan. In what was described as one of the greatest parties of the last century, the ball was known for its members' elaborate and intricate ensembles inspired by New York's iconic art deco architecture, such as the Empire State Building and the Chrysler Building.
SVA Features: SVA Students Hit Madison Avenue with More Stylish 3D Designs in "Hemlines to Skylines"

While "Hemlines from Skylines" draws its inspiration from the art deco era, artists have also incorporated modern-day architectural elements and developments. Each student designed a dress after one iconic New York City skyscraper or institution, from Radio City Music Hall to the new Hudson Yards Vessel. The sculptures are organized according to the "year of birth" of each chosen building, and are made up of materials such as resin, welded steel and aluminum, rope, grouted tiles, wood, light bulbs, stained glass, crystals, flowers and more.
"'Hemlines from Skylines' is a tribute, a thank you, to the concrete and steel beauty we experience every day as New Yorkers," said 3D Design Chair Kevin O'Callaghan, who co-curated the work with BFA Interior Design Chair Dr. Carol Bentel. "It is a reminder to stop looking at our phones and look up. It's much more interesting. Embrace it!"
"The Madison Avenue BID thanks David Rhodes, President of SVA for our ongoing partnership showcasing the inspired artwork of the College's 3D Design students to the visitors, residents and store owners of Madison Avenue as we celebrate the fall fashion season," said Matthew Bauer, president of the Madison Avenue BID. "I have heard so many times from our retailers how these pieces enliven our street and bring moments of delight to the countless individuals who have stopped, smiled (and often taken a selfie) with these imaginative and finely crafted works."
For all of his 3D projects, O'Callaghan challenges students to push the limits of their imaginations. "If you learn the integrity of materials, you learn what they can and can't do, and there isn't any project that you can't tackle," he says. O'Callaghan is a 2014 inductee into the Art Directors Hall of Fame and an award-winning set and exhibition designer, known, among other things, for designing the iconic "golden popcorn" statue for the MTV Movie Awards.
SVA Features: SVA Students Hit Madison Avenue with More Stylish 3D Designs in "Hemlines to Skylines"