Updates on the Fall 2020 Semester
News and information about SVA's plans for online instruction, and more.
SVA Talent on Full Display at SIGGRAPH 2017
July 26, 2017
Eight graduates and one faculty member will have their work on display at the world's largest annual conference and exhibition of computer graphics and interactive techniques starting this weekend in Los Angeles. SIGGRAPH 2017 is a five-day (July 30 – August 3) showcase of technical achievements in the field, and features new research panels, educational sessions, screenings and demos, as well as commercial exhibitions of current industry hardware, software and services. Itself an immersive and interactive experience, the SIGGRAPH conference is a premier, international technology event happening under the auspices of the Association for Computing Machinery (ACM), the world's first and largest computing society.
Several alumni are showing work in the 6th Annual Faculty Submitted Student Work Exhibit; selected images and videos will be displayed at the Education Committee Booth for the duration of the conference. All of the student submissions from SVA are the products of masters thesis projects. After the conference, all screened work will be archived on the Education Committee website.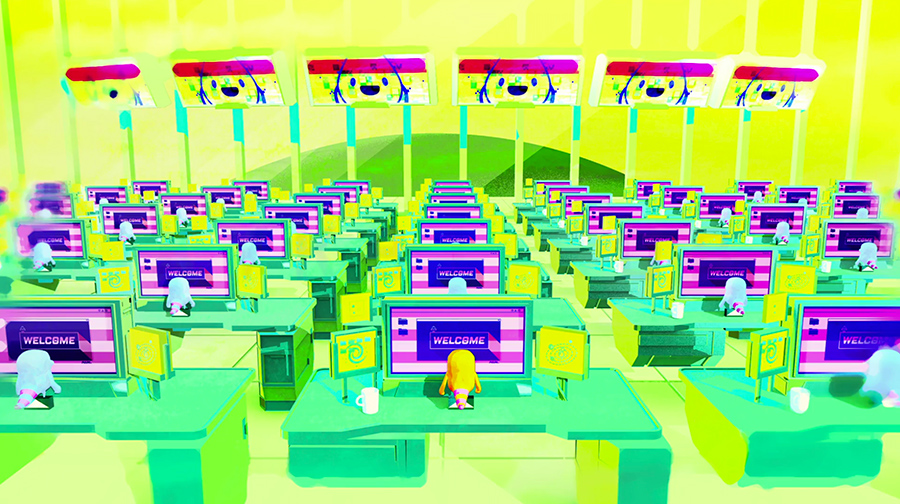 Hyun Jin Bae (MFA 2017 Computer Arts) is showing her animated, 3-D motion graphics short, Salary Serf (watch here). It follows a chameleon-corporate drone at a large pharmaceutical company that encourages and rewards the neon-hued, self-inflicted physical pain of its employees, as he strives to escape the vicious cycle.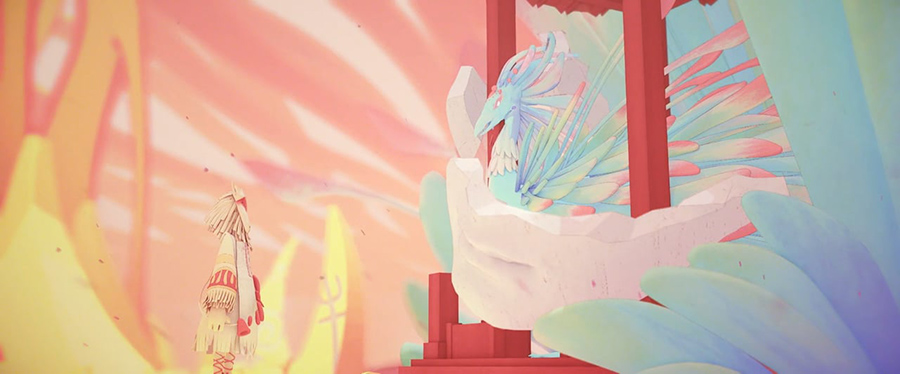 Empyrean Lost (watch here) by Ruiling (Ryder) Deng (MFA 2017 Computer Arts), is a recollection of a dreamy, pastel-colored paradise and a love lost, cut through with meditative reflections from Zen Buddhism's Diamond Sutra.
SVA Features: SVA Talent on Full Display at SIGGRAPH 2017
SVA Features asset
Yi Zhang (MFA 2017 Computer Arts) will show documentation of his game, KACHINA, which draws on a long-standing interest in Native American culture. Gameplay is as a small, intrepid bunny on her hero's journey—through forests, caves and the spirit worlds—as she defeats foes by summoning ancient ghosts and her own strength and confidence.
SVA Features: SVA Talent on Full Display at SIGGRAPH 2017
SVA Features asset
Yu Hao Chang's (MFA 2017 Computer Arts) video, Virginity and Beyond, is an animated, abstracted interpretation of people's sexual experiences. Vibrant, pulsing liquids and dyes rush in and out against a dark backdrop, set to a swelling instrumental score.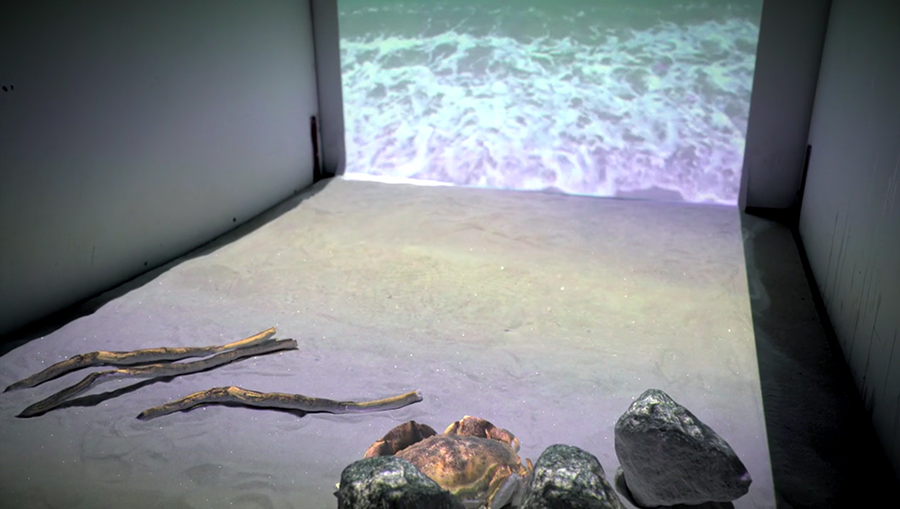 Weiheng Qian (MFA 2017 Computer Arts) is showing documentation of his thesis installation, Seashore (watch a video about it here), an artificial, surrealistic beach built out of 3-D models and projections; it continues his interest in technological, and often tactile, translations of nature into collaged, invented environments in the gallery.
SVA Features: SVA Talent on Full Display at SIGGRAPH 2017
SVA Features asset
A Fabricated Personal Archive, an installation from Po Yen Wang (MFA 2017 Computer Arts), examines identity and image by collecting home videos found on YouTube and replacing the young subjects with childhood photos of the artist.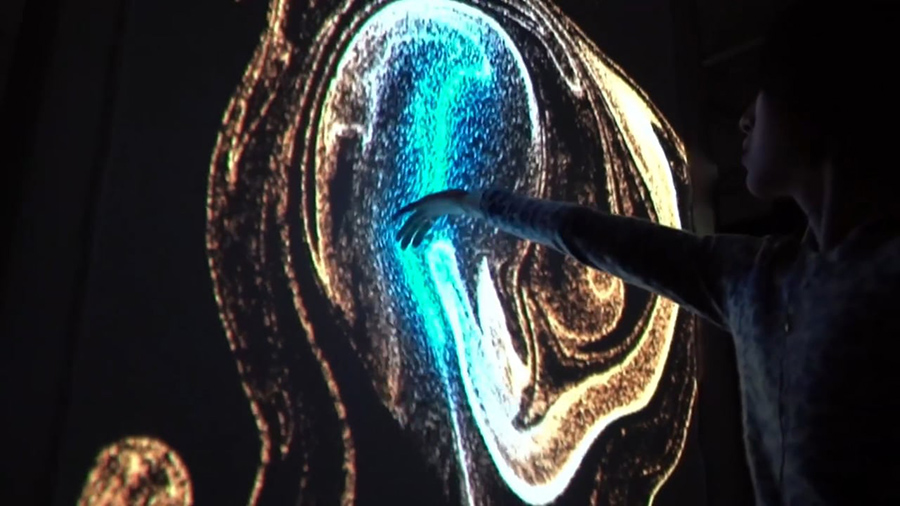 Biwei Niu's (MFA 2017 Computer Arts) installation, Rhythm, is built around the idea of qi, the circulating life force of Chinese medicine and philosophy and the ultimate source of interactive energy. Documentation shows how her geometric projections, which viewers are invited to touch and thus manipulate, combine programming, art and design for global culture.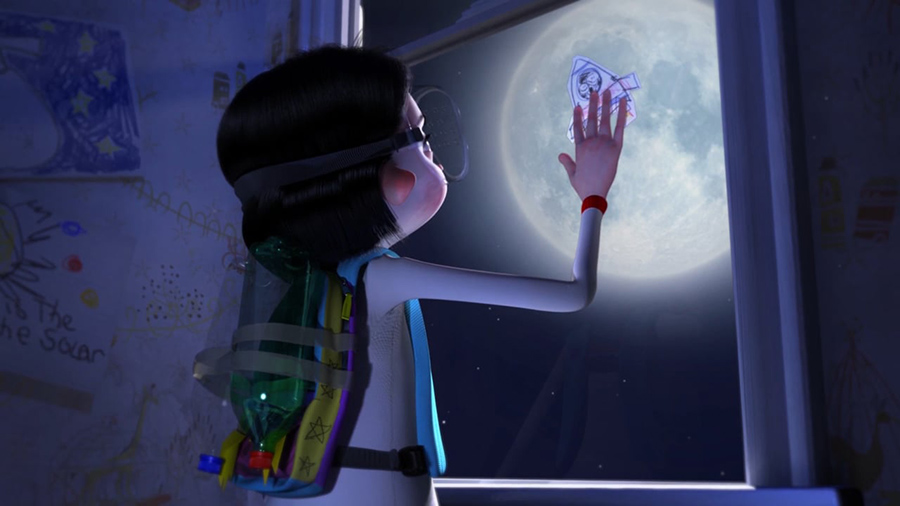 New for SIGGRAPH 2017, Hannah Roman (MFA 2016 Computer Arts) will be participating in the VR Film Jam, where teams compete to convert their animated shorts to interactive virtual reality experiences in 32 hours. She'll contend with The Moon is Essentially Gray, an animated short about a young girl, her makeshift rocket and an extraordinary interstellar flight.
SVA Features: SVA Talent on Full Display at SIGGRAPH 2017
SVA Features asset
And last but certainly not least, MFA Computer Arts Chair Terrence Masson will present HOLO-DOODLE, making its world premiere. Housed in its own specially-realized space at the VR Village, HOLO-DOODLE is a virtual reality hangout that lets people socialize—and ideally dance, play and party—as anarchic, androgynous pink robots.
For more information about SIGGRAPH 2017 and to see the full schedule, click here.