Updates on Reopening SVA
Click below for info on our plans for 2021-2022, including the vaccine requirement for all students, faculty and staff.
SVA's John Hendrix on His New Book About the Plot to Kill Hitler
September 18, 2018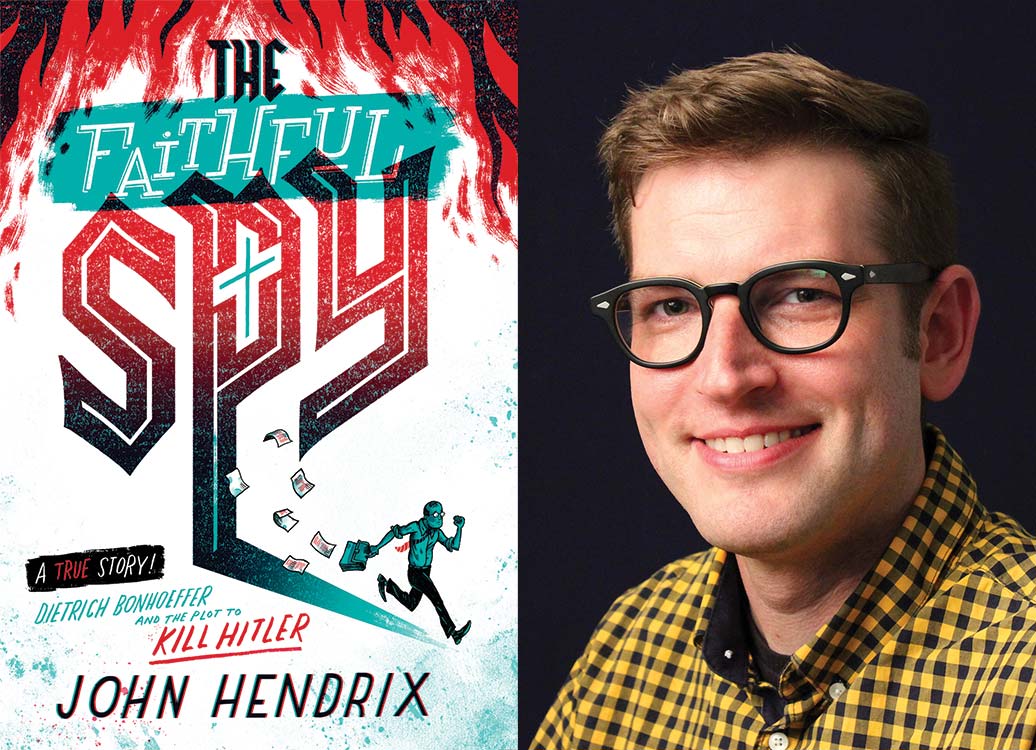 Debuting this week, The Faithful Spy, a middle-grade graphic novel by John Hendrix (MFA 2003 Illustration as Visual Essay), tells the true story of Dietrich Bonhoeffer, a German pastor and theologian who joined resistance efforts during World War II and took part in an undercover plot to assassinate Hitler. "It's a book I've wanted to write for many years because I've known his story since college," says Hendrix, a professor at Washington University in St. Louis and author and illustrator of several best-selling children's books.

In his first foray into a more extended format, Hendrix unpacks layers of Germany history alongside the story of Bonhoeffer's life; the retellings are both carefully considered and genuinely suspenseful. Against the horrific crimes of the Third Reich, Bonhoeffer is forced to redefine his faith, his morality and his patriotism, confronting Nazi violence and oppression and his own ethical dilemmas.
Visually, the narrative unfolds "like a sketchbook that had come to life," with sections of comics, maps, splash pages and handwritten text interacting. "The original idea was that Dietrich was writing the book and drawing," notes Hendrix, whose illustrations have appeared in The New York Times, Sports Illustrated and Rolling Stone. The immediacy of the sketchbook experience adds to the urgency of Hendrix's retelling.
Below, Hendrix delves further into the timing of the book's release, the aptitude young audiences have for complex subject matter, and the newfound challenges of a big project—"It's this killing your darlings process that happens over and over again."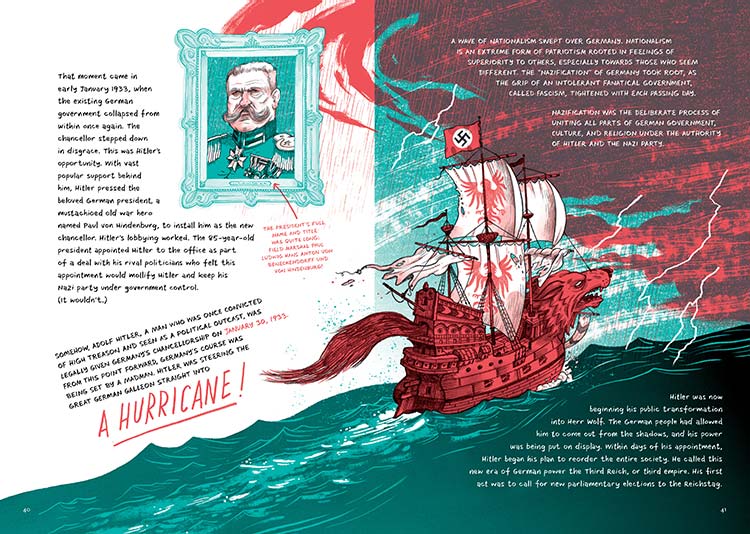 Where were you coming from as an author and artist as this project came to fruition?
My sensibilities took shape at SVA in the MFA Illustration as Visual Essay program, because [chair] Marshall [Arisman] was so good at teaching us to think beyond our skill set. We're not just wrists, we're whole content creators with ownership of every part of the project. In my thesis, I did a piece about John Brown [the abolitionist] which was the first piece I made that connected all the elements of my visual and writing voice. It was something I took out immediately and pitched to Scholastic and Abrams. Ever since then, I've had a love of telling high-stakes, moral-ambiguity stories that have historical parts, faith, Christianity, and [incorporate] what happens when you have a real world colliding with belief systems.
What resonated with you regarding wanting to work with Dietrich's story as material?
My faith has always been essential to me as something that's integrated and touches on all different parts of life and things you're interested in. I loved Dietrich's books Life Together and The Cost of Discipleship, which are genuinely just classics of Christian theology—he would be famous without what he did during World War II.
When I pitched this book in 2013, [I thought], "do we need another book about World War II?" Is this going to resonate? Suddenly these are these issues—[in Charlottesville] we had actual Nazis appearing in America. So, it feels like we still do need to [inform] kids and make [these issues] a real thing in their minds.
What kind of look or feel you were going for aesthetically?
David Sandlin, who I had at SVA, taught me printmaking [and] I always tell my students that printmaking changed the way I think about color. I've always wanted professionally a way to use my love of that media—the idea of making screens and of a limited palette color approach.
How did you approach presenting such a complicated and heavy story to young readers, particularly now, in a moment that's seen a resurgence of nationalistic and fearful political rhetoric?
To tell Dietrich's story, I had to tell Hitler's and [address] the question everyone, even adults, asks: How could Germany have been fooled? That is a fascinating question that has sadly become even more relevant.
It happened in a very organic way and I'm very grateful to be contributing to the conversation right now and feel very humbled. I think the book's main relevance is not about Nazism or nationalism as a danger—though it's in there—but I think Dietrich's main message is how the church was a complicit party to the government. And we see that happening now. I think that even if you're not interested in theology you can find some interest and some connection there if you're a young person. I think as Americans we feel like were inoculated against tyranny for some reason—and we're just not.
The Faithful Spy is available starting today, September 18, via ABRAMS The Art of Books.