Updates on the 2020-2021 Academic Year
SVA continues remote instruction, with select facilities accessible by appointment. Click below for updates.
SVA's Veteran Coalition of Arts Prepares for Veterans Day
November 7, 2018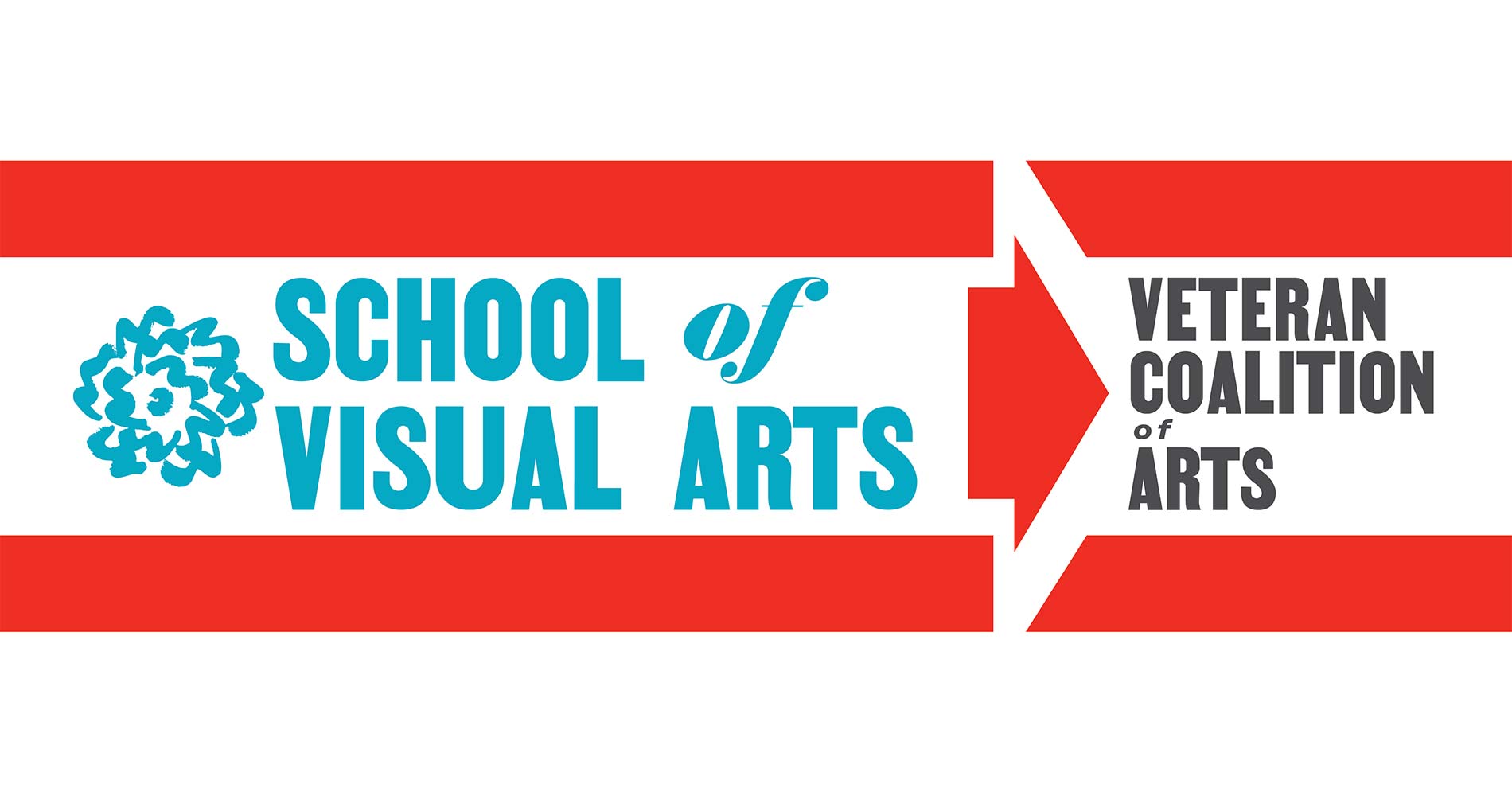 SVA's relationship and commitment to its student veterans go back more than 70 years, when a majority of the inaugural class of 35 students of the Cartoonists and Illustrators School—as SVA was originally known—were recently returned service members. Co-founder Silas Rhodes, who served in the U.S. Army during World War II, worked for the Veterans Administration and conceived of the art school to help veterans—newly encouraged to pursue higher education and vocational training through the tuition-paying G.I. Bill—compete for better jobs in the advertising and publishing worlds.
The veteran population at SVA holds steady between 40 and 50 students each year (46 student veterans are currently enrolled). Today, the College's focus is on helping veterans adjust to and succeed in school and civilian life, ensuring timely benefits distribution from the VA and providing spaces for camaraderie and connection, within the veteran community as well as with other students. Veterans Counselor and Assistant Registrar Gemma Prosper-Brown serves as a liaison and advocate for student veterans. "My role is to make sure they have a smooth walk through their academic career," she says—and noted the counseling opportunities, on-campus veterans groups, and special exhibition partnerships available. SVA is also routinely named a Military Friendly school.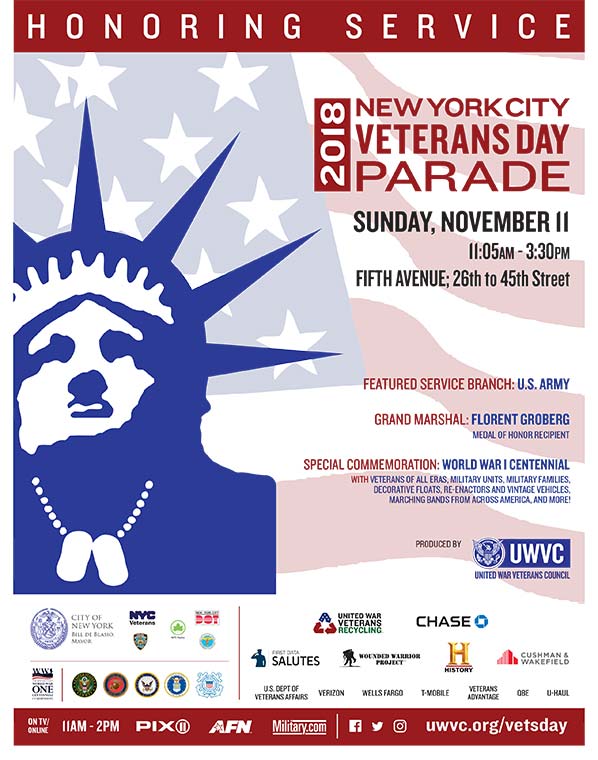 This Veterans Week, Prosper-Brown and the Veteran Coalition of Arts (VCA), a collective of veterans studying at SVA, have planned a handful of events raising awareness about veterans, students or otherwise, and veteran's issues. Military cultural competency training was held on Monday, November 5, for those faculty, staff and students interested in learning about military culture, values and experiences common among student veterans. On Wednesday, November 7, BFA Advertising student and VCA president Nikki Woods will host a screening of Almost Sunrise (6:30 pm at 209 East 23rd Street, Room 502), a documentary that follows two Iraq veterans on their soul-searching trek across America. The film's director, Michael Collins, will participate in a Q&A via Skype after the screening. Friday, November 9 is the annual veteran's luncheon hosted by the office of the Executive Vice President, and on Sunday, November 11, Prosper-Brown and VCA will march in NYC's Veterans Day Parade, representing SVA behind a specially commissioned banner from the Visual Arts Press (see above). This is the second time VCA is participating, and all are invited to join the contingent.
Connecting veterans with each other and with the greater student body, through events like this week's screening, is of top concern for Woods, who served eight years in the Army as a logistics sergeant. "I love giving back to veterans. The moment I [left the military], my main priority was to figure out a way to give back to my veterans, because I'm still in the same boat with them," she adds. "It's still hard for me to adapt, if I can be honest. The Veteran Coalition is a way to build camaraderie among student veterans…but my main goal [as president] is to make sure we have a strong connection not just among the veterans but also with civilians alike within the school."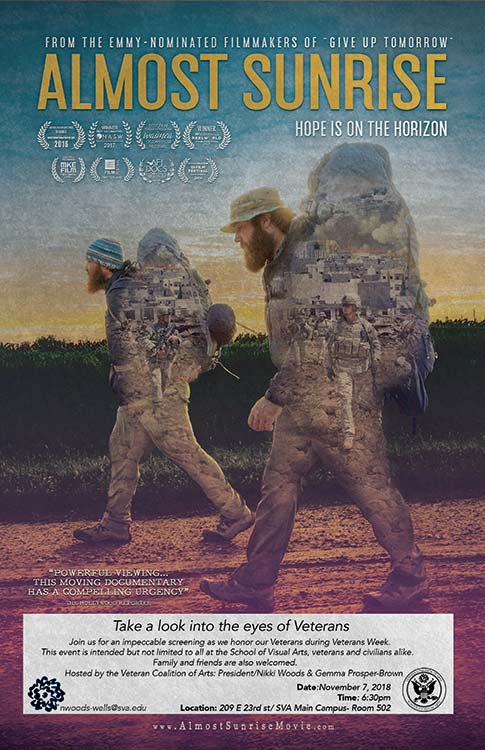 As with many SVA students, the opportunity to connect over art, to create and show work is enticement enough for student veterans applying to and enrolling in the College. Woods' own work is currently on view at the VA's Manhattan Campus on 23rd Street, as part of an exclusive, ongoing partnership between SVA, the VCA, and Duggal Visual Solutions; a new display by another, as-of-yet-determined student veteran will go up in December.
For BFA Design student Alex Angel, a former Marine and vice president of VCA, SVA's history only heightened the allure. "[SVA] was great towards vets from the beginning. I knew this was my school as I was going to exit the Marine Corps and wanted to study art in NYC," he says. "It is great to meet other veterans at SVA, [and] it is nice to know there are other veterans making art and pursuing their dreams." Angel's drawings, captured in the latest installment of the SVA Sketchbook video series, take inspiration from his travels and missions while enlisted, as well as more mundane activities, like his subway commute. Check out his sketchbooks, dense with patterns and interlocking images done in ballpoint pen, below.
SVA Features: SVA's Veteran Coalition of Arts Prepares for Veterans Day
SVA Features asset
SVA Features: SVA's Veteran Coalition for the Arts Prepares for Veterans Day
SVA Features asset