Updates on Reopening SVA
Click below for info on our plans for 2021-2022, including the vaccine requirement for all students, faculty and staff.
The Sandcastle Sculptures Of SVA Alumnus Calvin Seibert
May 23, 2018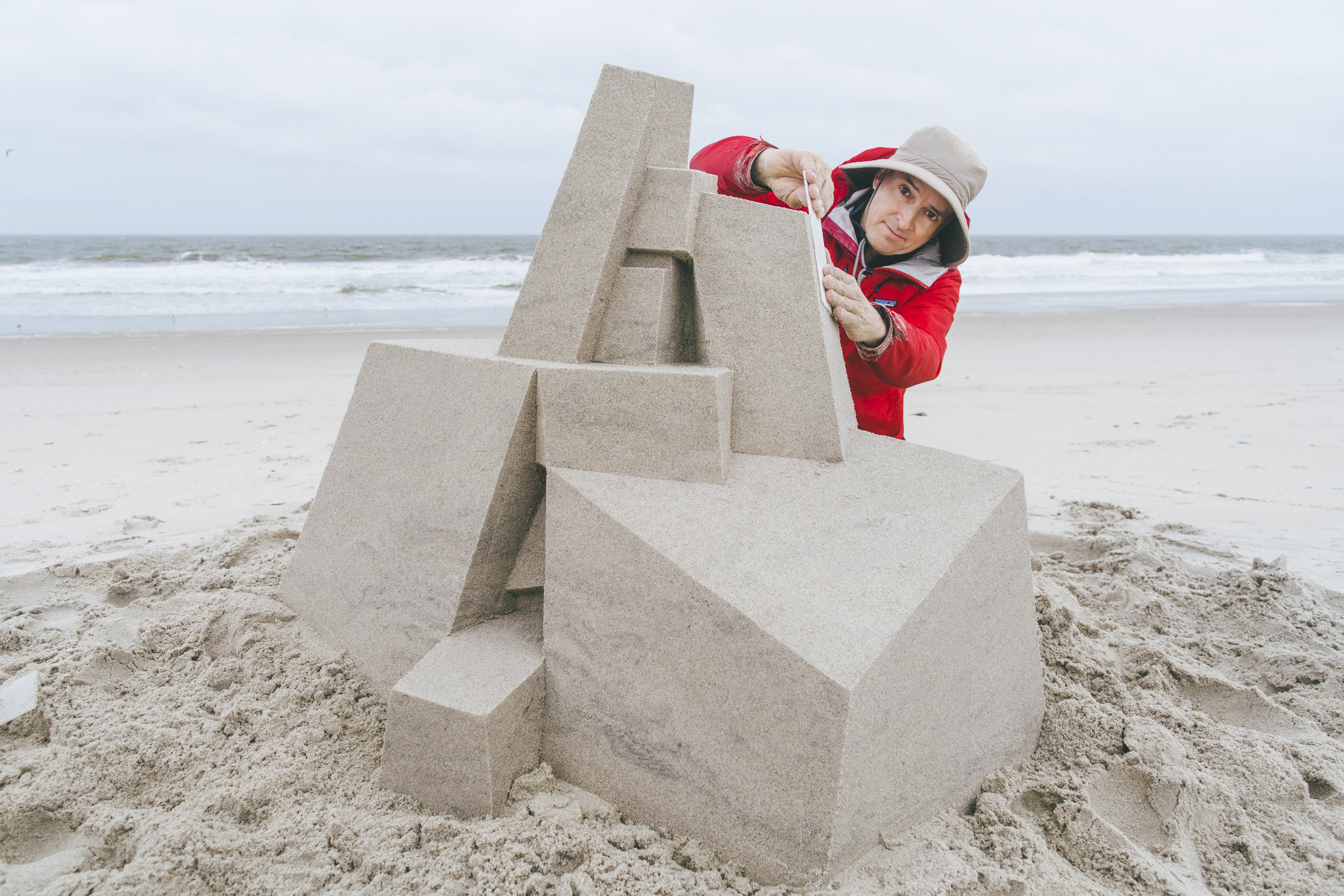 Calvin Seibert (BFA 1983 Fine Arts) has been building sandcastles for as long as he can remember, but it was only about three years ago that he started building them on Rockaway Beach, in Queens. After 10 years of working as a sculptor's assistant, he was recently unemployed—or at least underemployed, as he remains, intentionally, to date—and the round-trip bus fare from his rent-controlled Manhattan apartment to Jones Beach State Park, on Long Island, where he had built sandcastles since the mid-1980s, was now too expensive. Particularly if he was going to build sandcastles every day that wasn't too cold or rainy, which was and still is his plan.
SVA Features: Mister Sandman

"It's my primary activity," he said over coffee on a rainy day late last year. "Everything else I do is waiting and keeping myself afloat." Though summer was long over by then, it was still more or less warm enough outside for him to be at the beach, but he had lined up a few off-season jobs—mostly light home-improvement or house painting work. A friend who works in real estate had been trying to persuade him to move to San Francisco to manage one of his apartment buildings. The year-round California beaches were tempting, Seibert said, but the building "is filled with young techies having parties all the time, so I'm not sure I want to do that. … I wish it were quieter, you know?"
Seibert's castles are big, fantastical, cubist-looking things, alternately blocky and curvy, striated and smooth. They are most obviously influenced by architecture, primarily brutalism and modernism, but filled with details and inspirations from elsewhere and everywhere, be it earthworks, fine art or geology. They can sprawl for several feet or consist of heaps of haphazardly arranged, odd-angled shapes, or do both. He has built, by his count, "hundreds and hundreds and hundreds and hundreds" of them.
They are, he says, never finished, only abandoned. Seibert carves and packs their improvised design out of huge, wet piles of sand, using trowels and tampers that he made with leftover Plexiglas from his former employer's studio. He works nearby the Beach 68th Street pedestrian entrance, at a spot that is close enough to the water for him to quickly run back and forth with his two five-gallon buckets, but far enough away to avoid high tide. He usually makes one castle a day, not too far from the ruins of the previous day's. On breaks he eats muffins, fruit, trail mix, peanut butter and honey sandwiches, or chocolate. He buries the chocolate so that it stays cold, keeping it in a plastic box along with his phone and his camera.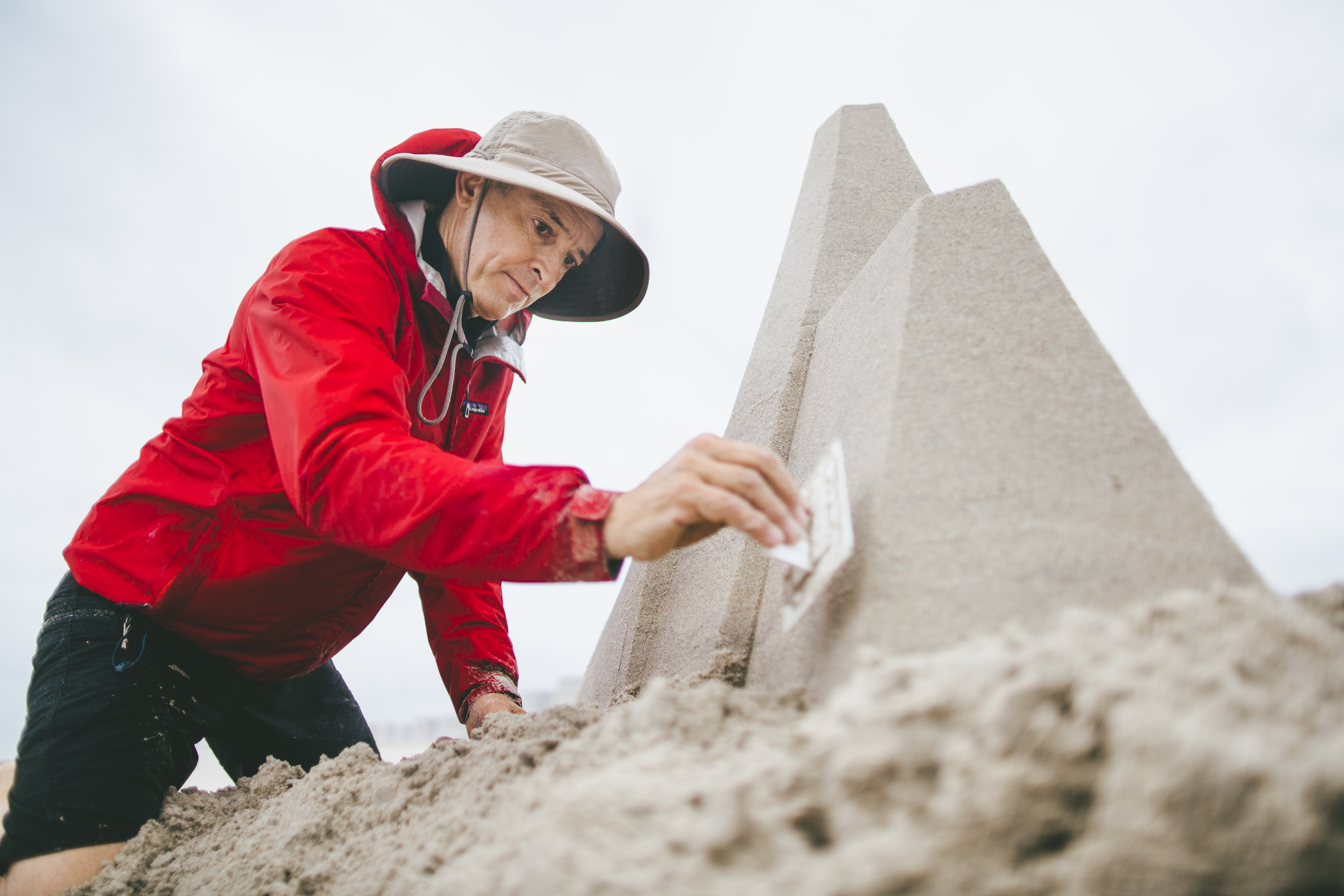 Sometime around 2006, Seibert began posting his sandcastles to Flickr, an online image-sharing platform. But it wasn't until around 2012, for reasons he can't name, that the wider world began to take notice of his work, and the notice since then has been considerable. Artsy, CityLab, Curbed, The New York Times, Smithsonian, CBS News (and, separately, its local affiliate, WCBS2), Time Out New York and Wired all have done stories on Seibert. The German newspaper Die Zeit interviewed him in 2015 and two summers later invited him to take over the Instagram account of their related publication, Zeitmagazin—a lofty, if obscure, honor: Previous @zeitmagazin guest hosts include filmmaker Wim Wenders, photographer Brigitte Lacombe and British band the xx. (That same summer, Seibert started his own account on the platform, under the handle @calvinseibert.) He has been hired to build sandcastles in a Manhattan gallery ("we used construction sand, which has sharper edges and holds together very well"), at a conference for the Summit Series organization in Tulum, Mexico ("very orangey sand") and for an Hermès catalog photo shoot in Cap Ferret, France ("beautiful sand, very consistent color"). Last summer, he heard from an editor who was interested in his ideas for a children's book. Seibert, flattered but "too busy with sandcastles right now," hasn't yet followed through. Next month, a short documentary about him, A Train to Rockaway, and directed by first-time filmmakers Carlos Rojas Felice and William Michals, will premiere at the Greenwich International Film Festival in Greenwich, Connecticut.
SVA Features: Mister Sandman
SVA Features asset
Seibert grew up in Vail, Colorado, during the town's formative years. His father, Pete, an elite skier and World War II veteran, founded the Vail Ski Resort in 1962 with the backing of a group of investors. When he died, in 2002, The New York Times memorialized him as the "soldier skier who built Vail."
"But he never made any money from it," Seibert said. "He didn't know how to make money."
Seibert's first sandcastles were built in construction sites as Vail went up around him. "Our doctor worked on the mines 15 miles away, our grocery store was in another town, we didn't have TV until the seventh grade. ... It was a really rural part of the world back then." When he wasn't making sandcastles, he was making "miniature towns and houses," he said, "but they were always opened up and left unfinished—they wouldn't have roofs." He briefly considered architecture as a career but decided it was too bound by rules and practical concerns and settled on art instead. In his high school library, in Denver, he remembers only two catalogs for art colleges, and one of them was for SVA.
At college, Seibert gravitated toward artists and SVA faculty Alice Aycock and Will Insley, both known for their architecturally influenced work. Aycock's restlessness left an especially deep impression. "She was making architectural things right when I first found out about her," he said, "and she quickly moved on to making machine-like things. And I was almost scared by that, by the idea that she's not sticking to this, she's just moving on."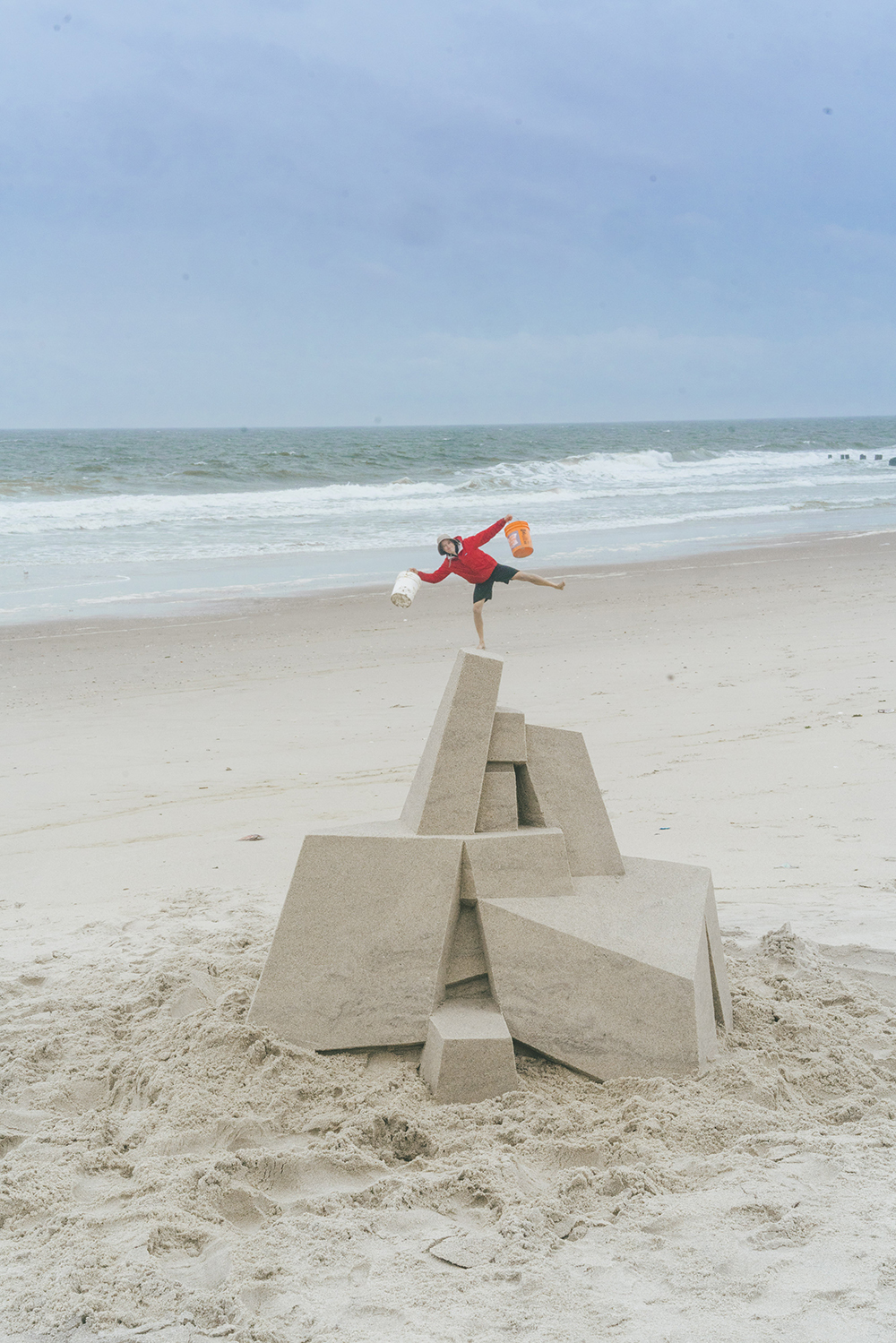 Though he has no plans to focus on anything other than his castles, Seibert's own art demonstrates a similar willingness to move on, even when he's not working with sand.
"He just plows ahead," says Michals, who with Rojas Felice approached Seibert about a documentary after reading his 2015 New York Times profile. Over the two successive summers in which the filmmakers shadowed Seibert, they watched a sculpture that he made in his off hours, using cardboard he scrounged from the street, grow steadily bigger, until it took up a comical amount of space in the artist's tiny studio apartment.
"It was about eight or 10 feet tall," Michals says. "It was like keeping a tree in your closet."
By last fall, Seibert was readying to do with it what he always does whenever he's done with a work: photograph it, discard it and start again. "I feel weird about giving [sculptures] away," he said. "I don't want people to take it just because I'm going to throw it out. ... It's easier to just get rid of it."
In early March, Seibert reviewed his plans for the warm months ahead. The Summit Series had invited him back to Tulum; this time, he would also teach a sandcastle workshop. Most promising however were his 90,000 frequent-flier miles, accrued over many years of visiting family in Colorado.
"I've been looking online at beaches in Japan," he said. "I might go build castles there."