Updates on Reopening SVA
Click below for info on our plans for 2021-2022, including the vaccine requirement for all students, faculty and staff.
Trish Tillman's Thrilling, Faux Luxurious, Erotic Art
April 18, 2017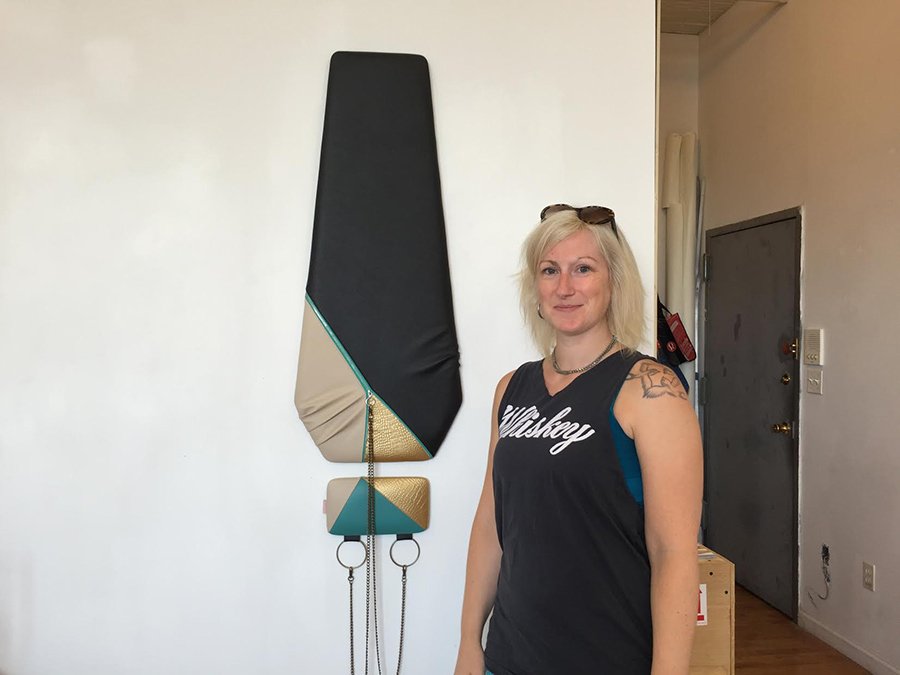 Late last year, Alumni Affairs manager Kate Styer paid a visit to the studio of Trish Tillman (MFA 2009 Fine Arts) and afterwards tipped us off about the impressive and unique nature of the artist's latest works-in-progress. Those works have now culminated in "Stage Diver," which is currently on view at Asya Geisberg Gallery, 537B West 23rd Street, through May 13. "Imagine a ménage à trois between a suburban thrift store, a midcentury modern furniture salon, and a sex shop—the love children born of such a hot-'n'-heavy session might be Trish Tillman's sculptures," is how Artforum described the show. We caught up with Tillman recently via email to get her take.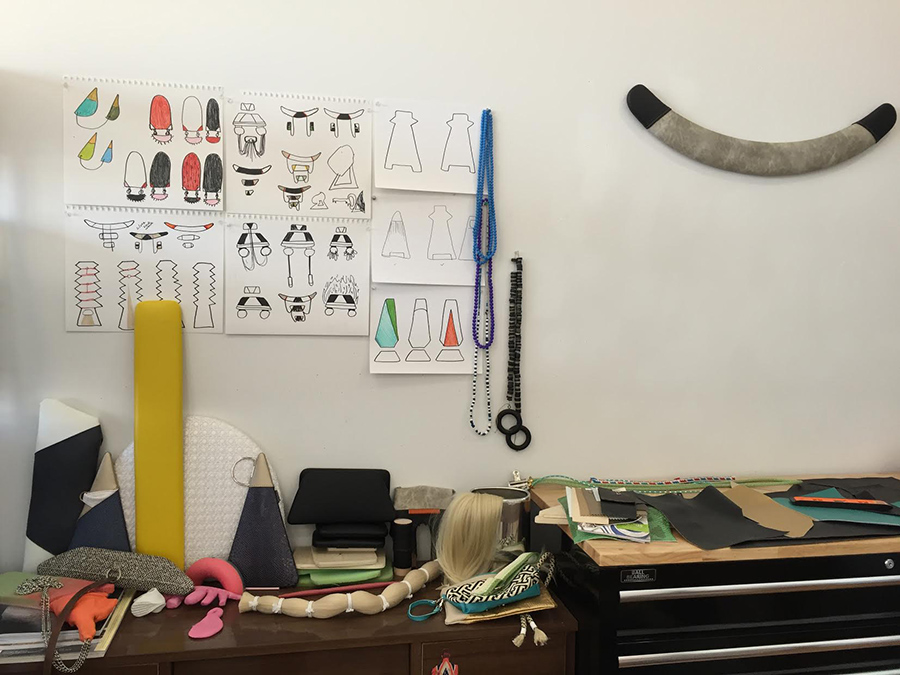 What inspires and influences you most as an artist?
I have always loved family relics. Furniture handed down through generations, items with a story, heirloom jewelry (especially brooches from my grandmothers), vintage linens, serving plates of all sorts, small embroidered hand towels, bright orange and yellow Tupperware, velvet round pillows, ceramic cats and quirky/cutesy salt and pepper shakers.
I am influenced by the way everyday cultural debris clutters our homes. An ugly tissue box in an impeccably decorated living room. Loud colored dish soap, dollar store brush, soiled sponge in the sink. Toilet products and advertisements TAKING OVER on the exposed shelves in a bathroom.
I also love shiny kitchen and bathroom accents, like chrome faucet on a pink enameled sink. That also goes for car interiors and motorcycle parts—the shiny exhaust system, black leather seats with perfect stitching to signify luxury or badass (depending on what vehicle it is.)
Shiny studs and fashion accessories are also always an eye catcher for me. I love seeing ratty cut-up punk vests with all kinds of buttons and spikes on them, big zippers and oversized grommets, long chains.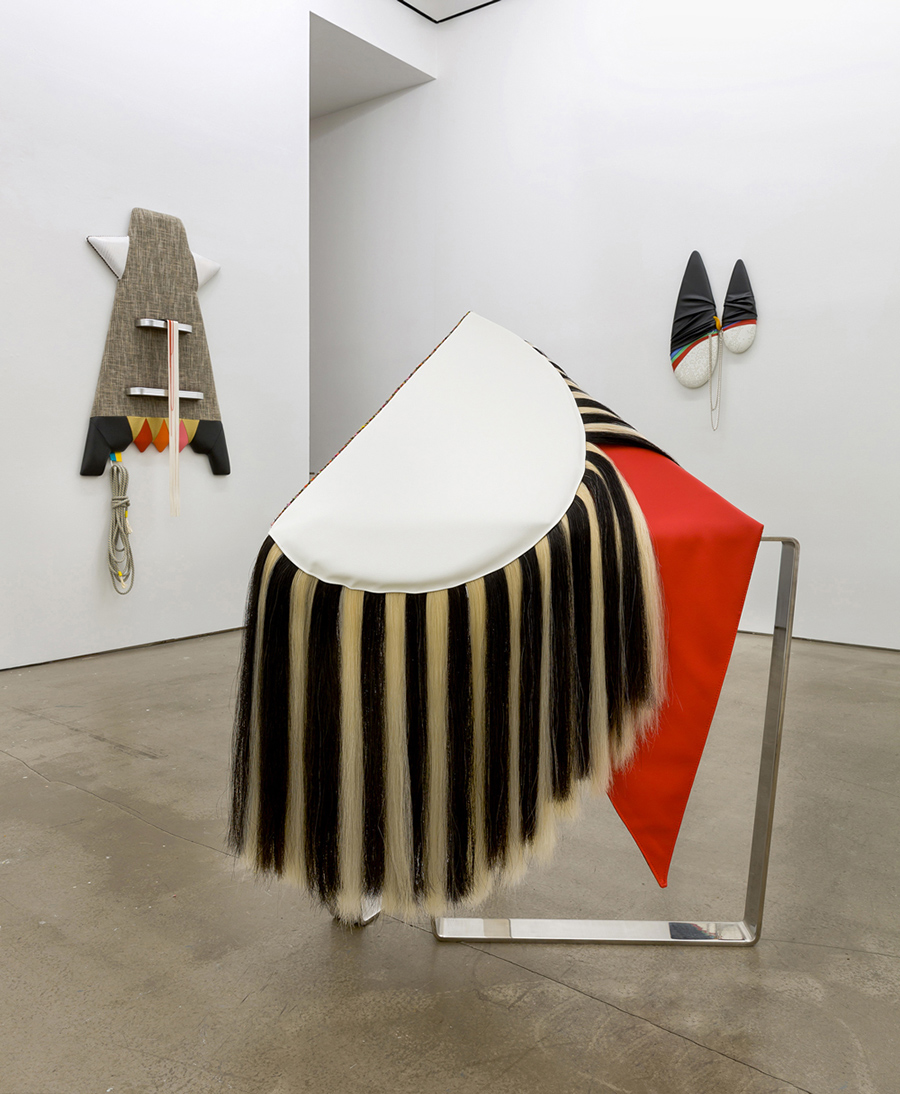 How would you describe the subject matter or content of the work in your current show?
The above is always part of the work, and I use those references to make totemic structures that mimic a type of altar space. This work uses the language of faux luxury from bars, restaurants, diners and nightclub interiors as its relationship to the psyche. I work with the drama of these created spaces, the smoky gaudy interiors, and how they could stimulate a certain behavior. My father was a salesman and I grew up getting to know restaurant supplies and his clients. We used to visit restaurant and hotel kitchens and I would see all the hidden backroom stuff, then we would walk through the double swinging doors to the main restaurant or hotel showroom and it would become this type of magic stage.
In the new work, I use draped ropes, hanging chains, horsehair and metal studs to pull and penetrate through the plush façades made of leather and vinyl. I'm thinking a lot about special occasions, leisure time in public places, and the role of the entertainment and hospitality industries. I use tassels and zippers to evoke the fetish of the material, the performance of the material, while colorful protrusions suggest faux fruit or exotic birds. I think about all of these things in relation to taste, and our ideas of comfort, luxury and fantasy.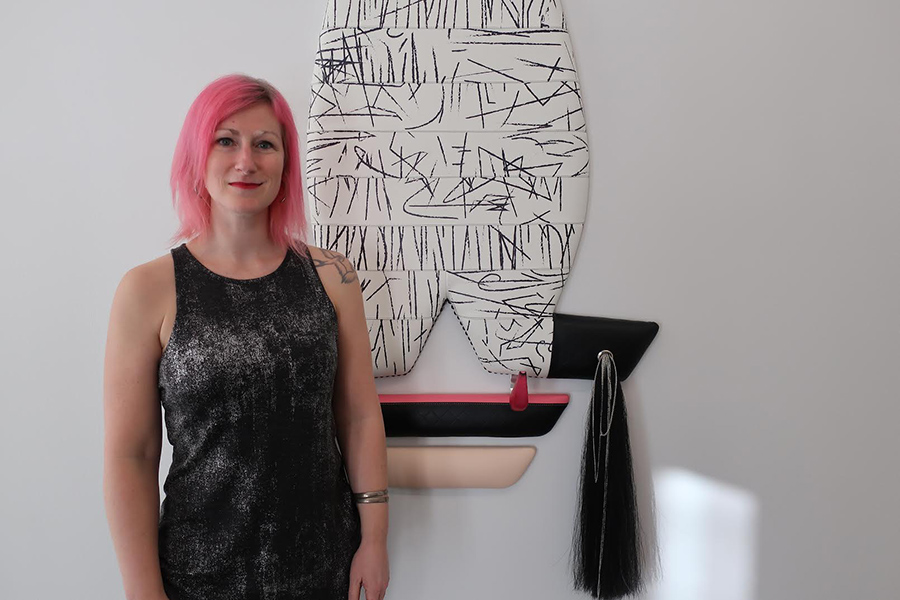 What is your approach to navigating the art world?
I used to go to gallery openings every week with many of my SVA friends. We started that in grad school and now it's great to catch up with friends at openings since everyone has different schedules. I love seeing the work of my friends and peers change and grow, and support them at their openings and events as much as I can. It's harder to coordinate social events and enough studio time these days though. Social media kind of helps with promoting other peoples' work and your own, but I don't really see that as a substitute for seeing things in person and having real conversations with people.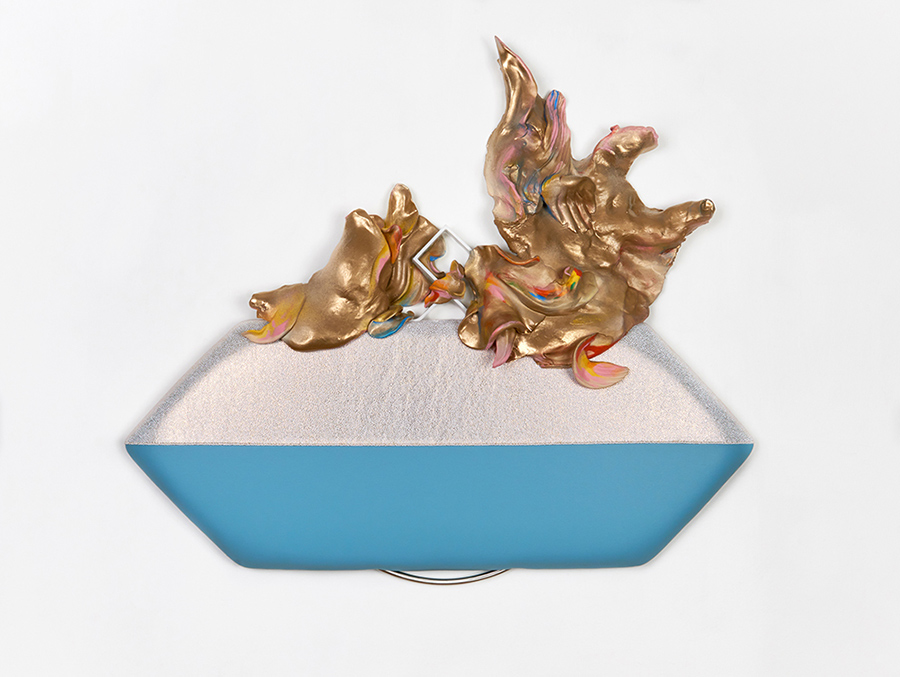 Any advice for current SVA students and other aspiring artists?
Yes. Make the work you feel is the most you. Don't worry about what it looks like at first. If you just start making something and have no idea what the hell it is, it's a really fun adventure.
Everyone has a different studio practice, but I think it's important to spend as much time as possible in your studio or at your desk writing/planning/thinking/sketching even if it is just an hour or so here or there. If you're like most artists and balance a job (art or otherwise) and your art practice, there will be times you get busy and stressed out at "work." If you don't have time to get to your studio, writing at a bar or café is a nice break. You can work anywhere, really, on the planning and brainstorming. I can zone out in a busy café in a way that I can't in my studio or at a desk, so that time is often important when I'm just starting a new project. Back to the day job—even if it is one that you love or is an art job where you interact with other artists, that's all energy not spent in your studio. You have to balance all of that and make sure you set boundaries for all other aspects of your life.
Also, I think it's important to invite people to your studio. Especially people you don't know well, maybe someone you just met, or whose art you like. Take a chance. Maybe you'll become friends, maybe you or they will just be a sounding board, maybe it's just good practice—all of that is important. Hearing yourself talk about your work to others is important so you know what the hell you are making and why. It's easy to get stuck in your own head—you need to speak about it even if it is in broken up sentences or written via poetry. Or take a magazine and cut it up and paste it on a huge piece of paper so you can see where your thoughts are in another way. Revisit when you didn't know the art world and just wanted to express teenage angst.
To see more of Tillman's work, click here. For more information about and images of "Stage Diver," click here.