'Underground Images': SVA's Iconic Subway Posters Now on View in Romania
October 4, 2016
"Underground Images," the travelling retrospective of SVA's long-running subway poster series, recently opened in Timisoara, Romania, with a special three-tiered exhibition, on view at various locations in the city through October and November. MFA Illustration as Visual Essay faculty member Mirko Ilić, organizer of "Underground Images," arranged for this latest installment with help from Ovidiu Hrin, a curator at Typopassage, a self-described "micro-museum" in Timisoara that is dedicated to design and typography.
SVA Features: Underground Images Romania

For "Underground Images," Typopassage, which is located in a formerly abandoned outdoor passageway, has been painted to resemble a New York City subway station, with 12 of the College's posters installed along one wall of the tunnel. These posters will be on view through November 1.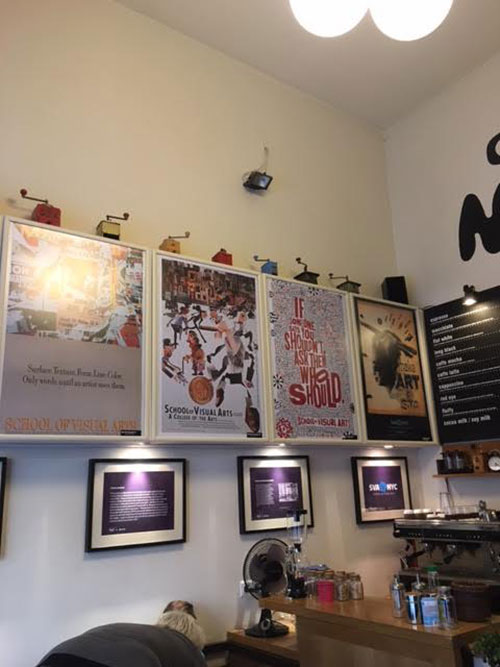 An additional six SVA subway posters are on view at Typocafé—a coffee shop in Timisoara that Typopassage often uses for exhibitions—through November 30.
Finally, at Typeyard—another Typopassage venue, this one located inside a building formerly used by the Serbian church—40 more SVA posters are on display, also through November 30. Black-and-white replicas of these posters line the building's stairwell, and the stairwell's street-level entry has been made up to look like that of a fictitious New York City subway station, Rhodes Square—an homage to SVA's founder, Silas H. Rhodes, who was the original creative director of the poster series. His son, SVA Executive Vice President Anthony P. Rhodes, has served as its creative director since 2007.
"Ovidiu Hrin is one of the leading and most influential designers in Romania," Ilić says. "He took the show to a totally new level by creating a multimedia and multi-location event beyond my expectations."
As part of the opening for the exhibition at Typeyard, SVA Archivist Beth Kleber gave a talk on the history of SVA's subway posters, and a jazz concert was held in the upstairs courtyard, where images of the posters were projected on a wall. Later that evening, in the café inside the church building, a DJ played a special, "Underground Images"-themed set. There were also concerts and parties going on simultaneously that night at Typopassage and Typocafé.
"Underground Images: School of Visual Arts Subway Posters, 1947 to the Present" has been featured in cities around the world, including Beijing, Istanbul and Marseilles. More than 29 noted designers and illustrators have contributed posters to the College's long-running poster campaign, including Milton Glaser, Stefan Sagmeister, Marshall Arisman, Nathan Fox, Louise Fili and Paula Scher. The next installation of "Underground Images" opens on November 3 in Budapest, as part of Poster Fest, an event that highlights the intellectual values, results and possibilities of poster arts and graphic design. For more information about "Underground Images," click here.