Updates on the 2020-2021 Academic Year
SVA continues remote instruction, with select facilities accessible by appointment. Click below for updates.
We Graduated from SVA 2018 [Video]
July 12, 2018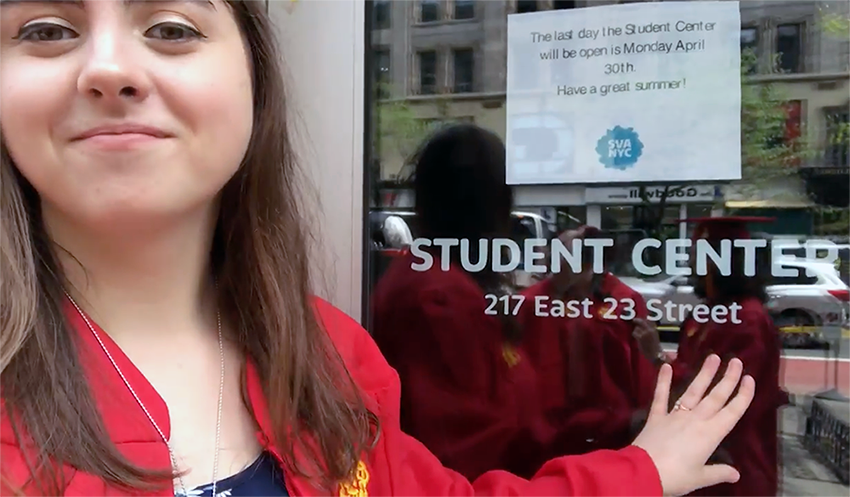 May 7, 2018 was an exuberant day for the SVA Class of 2018. After years of hard work, challenges and perseverance, a triumphant wave of red gowns—approximately 1,180 students—received their degrees at Radio City Music Hall where artist, designer and environmentalist Maya Lin delivered a rousing commencement speech about finding your individual creative voice in the world.

SVA chose four students to document the day and their preparations for the ceremony, which led to a mix of excitement, nervousness and bittersweet feelings. "It feels weird because I don't think it's set in, but I'm excited," said Robert Herrera (BFA 2018 Photography and Video).
New York-based BFA Illustration alumnus Chloe Giroux is an illustrator, printmaker and, according to her great Instagram account, an "aspiring candlestick-maker." "It seems crazy to think that my time at SVA is done, but I know the effect it had on me will stay with me," she said. The Visual Arts Press also made a great SVA Sketchbooks video on her work earlier this year, which you can see below.

SVA Features: We Graduated from SVA 2018
SVA Features asset
Devin Araujo is a BFA Film alumnus and when we spoke to him last he had big aspirations for post-graduate life. "On one hand I can see myself working on big time movies in Hollywood," he said. "On the other hand I can see myself working on a late-night talk show or television series." Here's his 2015 film reel.
SVA Features: We Graduated from SVA 2018
SVA Features asset
Romina Khan is now a BFA Photography and Video alumnus and she was proud to have her family witness the event. "It's kind of surreal that my grandparents were able to make it. They came all the way from Iran just to see me graduate," she said with joy.

Robert Herrera is another New Yorker who graduated from the BFA Photography and Video program, and he reflected on his SVA experience with gratitude. "I'm really thankful for all things I was able to accomplish in the last four years and all the opportunities I had." You can see more of his work on his website.
Here's our look-back video. Congrats again to all the SVA graduates. We're looking forward to seeing your work and watching your careers flourish in the future.

SVA Features: We Graduated from SVA 2018
SVA Features asset