Updates on the 2020-2021 Academic Year
SVA continues remote instruction, with select facilities accessible by appointment. Click below for updates.
Celebrating 50 Years of Richard Wilde, BFA Advertising and BFA Design Chair
March 20, 2019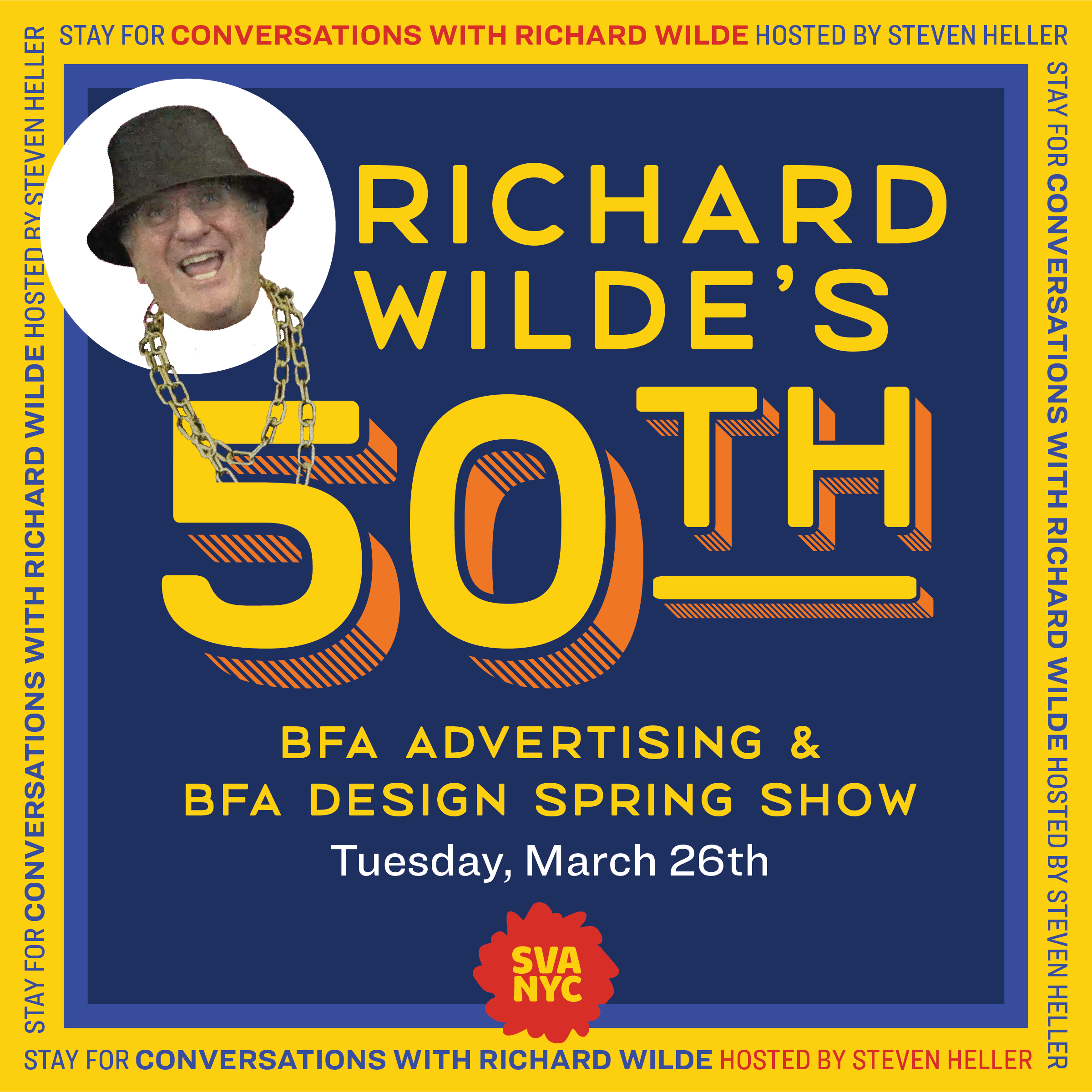 It's been a wild(e) life. SVA's beloved educator Richard Wilde, chair of the BFA Advertising and BFA Design departments, and founding partner of the acclaimed Wilde design studio, is stepping down. After 50 years of teaching at SVA, mentoring superstar alumni like Gail Anderson, (BFA 1984 Media Arts), Timothy Goodman (BFA 2007 Graphic Design), Natasha Jen (BFA 2003 Graphic Design) and many more, Wilde will be retiring after this semester.
Critique magazine calls Wilde "the guru of graphic design thinking" and the ADC Hall of Fame, which added him to its ranks in 1999, says that "his emphatic belief is that everyone is born creative. ... The teacher's role is to help recover creativity by creating conditions that foster a personal investigation in finding one's own signature."
To celebrate Wilde's history and impact at the College, the Visual Arts Press has produced a new short video series, #Wildelife. SVA faculty, staff, students and alumni share their memories, while wearing a melted bead pendant of Wilde's face, made by Victor-John Villanueva (BFA 2001 Graphic Design), as a necklace (because why not?). BFA Advertising student Nikki Woods says that "he challenged me to think outside the box," while BFA Design student Alex Angel admits that Wilde is one of the main reasons he decided to study at the College. Angel Ibañez of SVA's Digital Imaging Center lauds him as a "tremendous inspiration," and begs, "Please don't retire."
The SVA community will feel Wilde's absence, but his legacy is immeasurable. Before he says goodbye, at an event immediately following the BFA Advertising and BFA Design Spring Exhibition reception, Wilde will discuss the highlights of his 50 years and share insights about education, teaching, design and more. Following the talk, which will be hosted by MFA Design Co-Chair Steven Heller, there will also be a Q&A.
Conversations with Richard Wilde and the BFA Advertising and BFA Design Spring Exhibition reception will be held on Tuesday, March 26, with the reception beginning at 5:00pm and the talk beginning at 8:00pm. Both events are open to the public.