Nate Powell Talks 'March' On The Eve of Its New Exhibition
Society of Illustrators displays the art and process behind these critically acclaimed graphic novels
February 23, 2018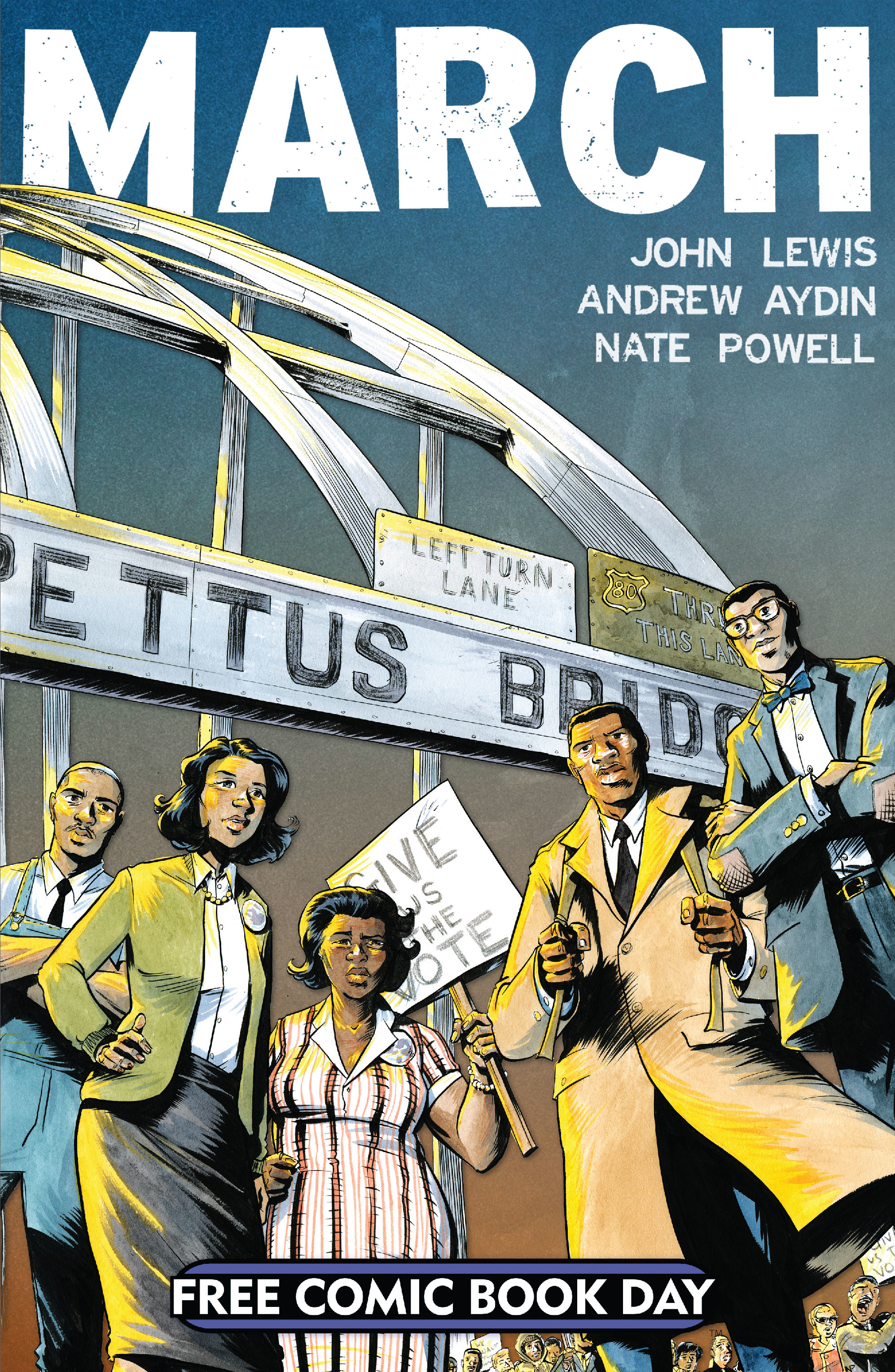 Illustrator and graphic novelist Nate Powell began self-publishing at age 14 and graduated from SVA in 2000 (BFA 2000 Cartooning). And since then he's become the first and only cartoonist ever to win the National Book Award. He did so by dedicating nearly four years to March, a three-volume graphic-novel memoir by civil rights hero and U.S. Congressman John Lewis. Top Shelf Productions' March: Book One arrived in 2013, Book Two in 2015 and the final chapter Book Three was released in the summer of 2016 (the Trilogy Slipcase Set followed shortly thereafter).
A collaboration between Powell, co-written with Andrew Aydin, who also works in Lewis' congressional office, and the Congressmen himself, the inspiration came from the 1957 comic book Martin Luther King and the Montgomery Story, about the Montgomery, Alabama, bus boycott. March has gone on to win numerous awards, the aforementioned National Book Award, accolades across the country and became a New York Times #1 bestseller.
Dedicated to "the past and future children of the movement" March is an inspirational work recounting a crucial moment in history. The book has ties to the school beyond Powell; Lewis delivered the commencement address at SVA's commencement in May 2014, urging students "to get out and disturb the order of things."
Following the release of March: Book One, we spoke to Powell, Aydin and then Congressman Lewis via email (you can read that interview here). With Black History Month coming to a close, and the impact of the graphic novel still resonating strong, the Society Of Illustrators in New York is putting on the exhibition "The Art of MARCH: A Civil Rights Masterpiece" on view starting February 28 through June 30, sponsored by the School Of Visual Arts. Its opening reception kicks off Thursday, March 1 at 6:00pm. The show is intended to give a glimpse into the process of the graphic novel and to take its visitors through "a visceral tour of the movement, illuminating pivotal moments, people, and philosophies." The display will feature 150 pieces of original art, interactive materials, and new exhibition essays by Jonathan W. Gray, Associate Professor of English at John Jay College of Criminal Justice.
On the eve of the Society Of Illustrators' show, we spoke to a very candid Powell about how March has affected his life, how the work changed him as a person and what he's up to next.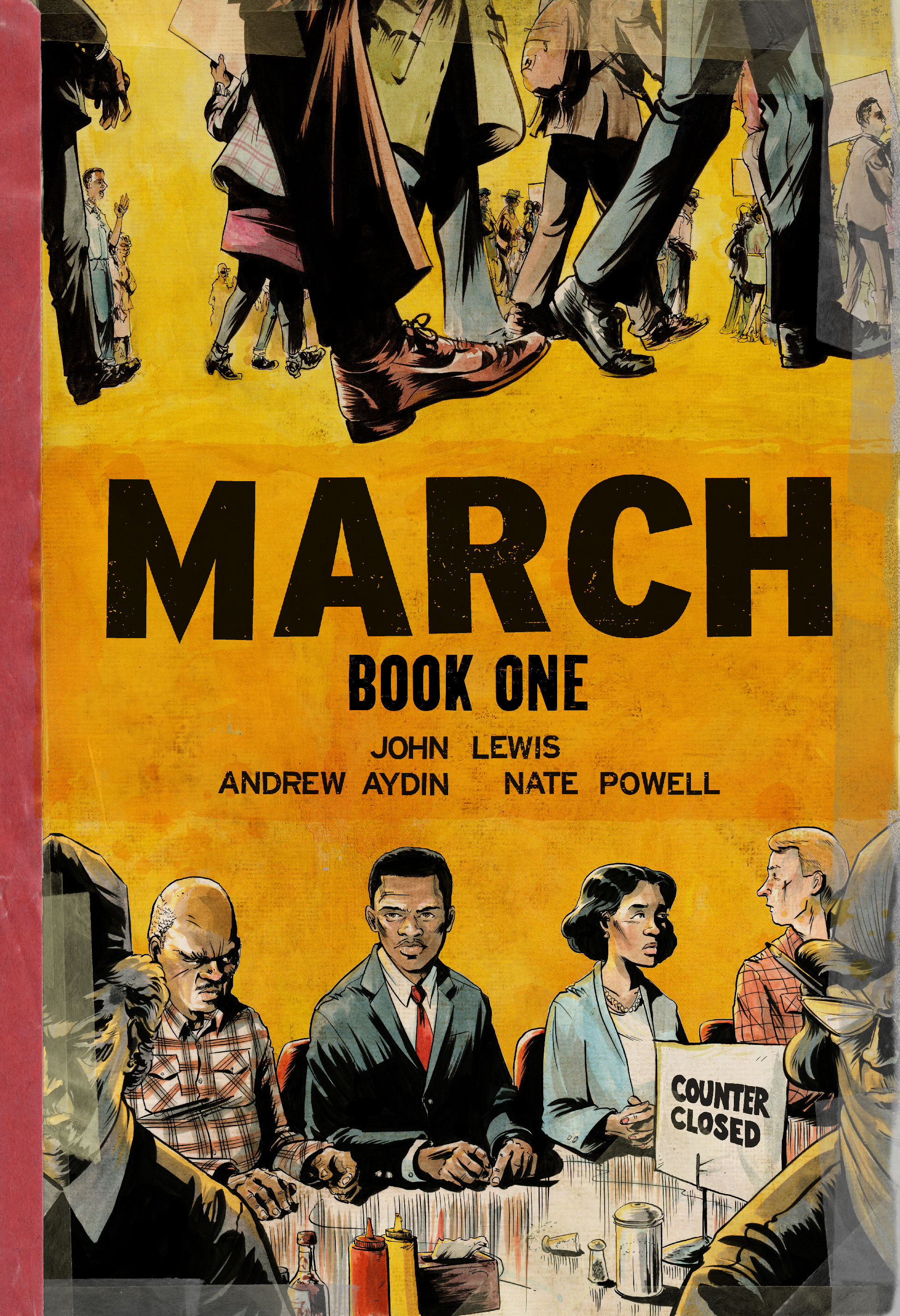 Let's talk the impact of March. How much has it affected your career? The National Book Award must have been huge.
There are several different facets to this. In so many ways, there had never quite been a comic like March—and that includes the specific creative relationships, the storytelling process, and the space it occupies in the world at large. On the one hand, it has been profoundly encouraging to make something that has significantly contributed to an urgent national conversation about justice, equality, representation, activism, change, and revolution. On the other hand—and this is the part comics-loving people don't really want to hear—the success of March led to an absolute-zero quantifiable increase in sales of my other books. That surprised and frustrated me at first, but it's ultimately intertwined with March occupying uncharted territory; its inclusion in so many schools and community reading lists often means that it's folks' first and only graphic novel they've ever read. Being a part of that gateway-exposure for comics is wonderful, but it requires accepting the realities of a segmented, limited comics readership.
Since the completion of March, my professional realities have largely been unchanged. I'm actually backed up with years of work I started before and during my work on the trilogy, which had to be shelved in order to meet the rising challenges and demands of March. I'm just now starting to dig out of that work-hole. I also had to turn down a lot of collaborations and for-hire comics jobs—even some really promising Big Two projects—to complete the trilogy. Doing the job right required choosing a single path over the course of 4 years, and reckoning with that path after the fact. Exposure-wise, it's true that I wound up getting on TV cameras a bit more than my peers, but ultimately I discovered that such exposure does very little to bring new readership towards comics itself. The work is always there on the drawing table, and it's the work that shall survive.
How much did it impact you personally?
It allowed me to reckon more fully with any leftover social-political baggage or anxieties as a white Southerner raised by Mississippian Baby Boomers, and carved out a new set of tools by which to better speak about the legacy of those conditions and experiences. The same is true for my parents, specifically after they read Book Two. That reckoning with their own complicity and participation in the daily structures of the Jim Crow South has since brought us together more fully as a family and has better equipped them with the perspective needed to take a stand in 2018 and onward. The work also allowed me to confront some long-standing rhetorical and political assumptions I've carried since teenage political awakenings in the 1990's underground punk community. It's been unnerving to see how some of the hair-splitting and posturing of the era was a product of living in an underground subculture amidst the relative cushiness of the second Clinton administration. Most importantly, as a parent, the process of making March has allowed me to equip my kids and their generation with a set of tools to help deal with the ongoing struggle for justice and equality, and the necessity of taking to the streets to push change into being.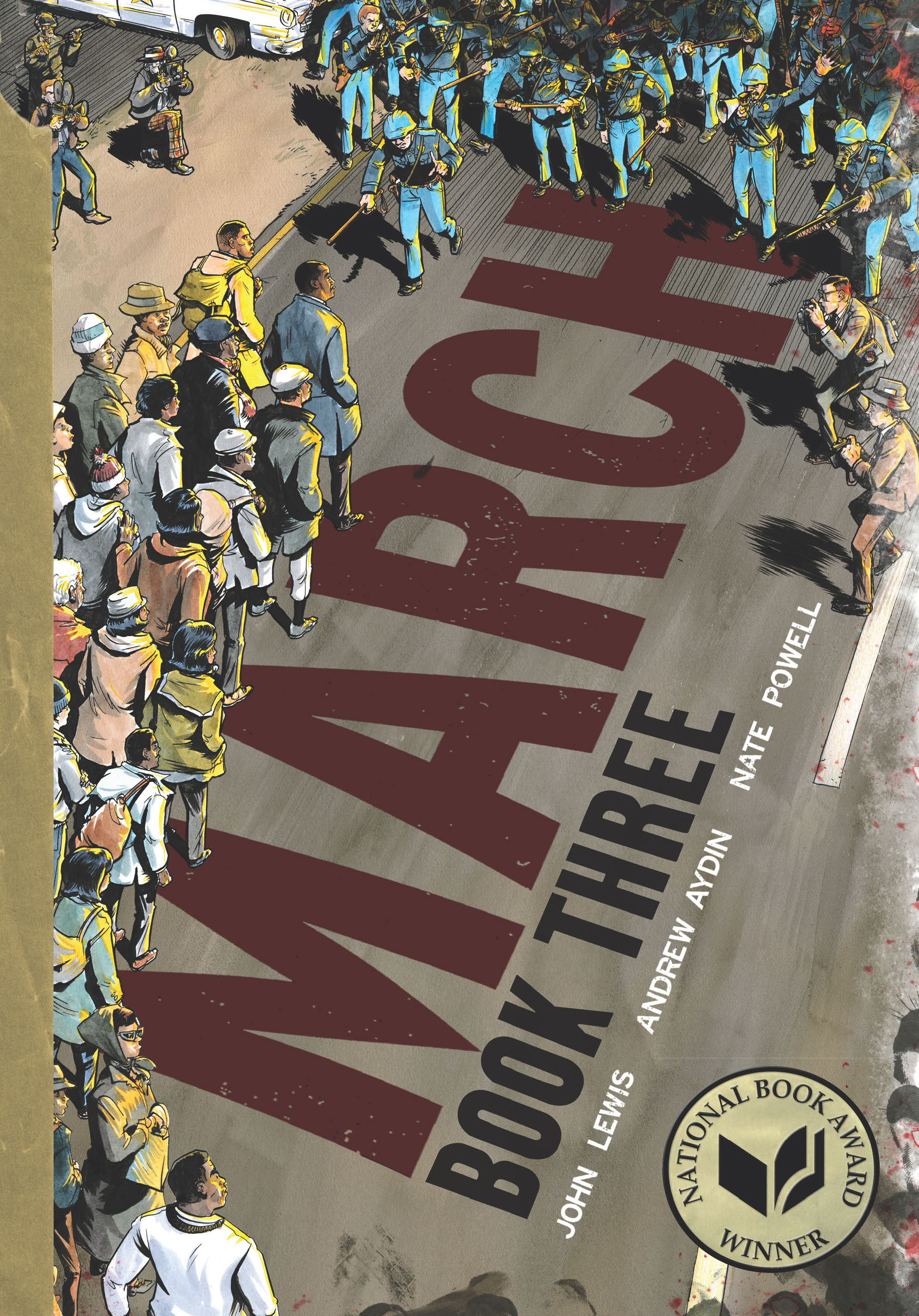 What was the most fulfilling part of being involved in March?
Bringing out the complexities, contradictions, and inconvenient truths present in the history of the civil rights movement. It was also amazing to actually correct long-standing errors in the accepted historical record, and to participate in adding a couple of things to the historical record too. I never thought that's something I'd be a part of, largely because I never previously understood the way history is documented, researched, and processed.
March has been on exhibition before, but the racial and political landscape has changed.
Yes, I've previously had exhibits in Tennessee, Ohio, Texas, and most recently in California. In the context of our 2018 hellscape, though, these public displays just help keep this history circulating in the larger social conversation, especially now that entire schools and communities are reading the material and have the opportunity to view, discuss, and participate in the work and its subject matter.
What would you like an audience who is viewing the exhibition take away from it all?
What's most important to the whole creative team is being able to communicate, "Look—this is what a group of thoughtful, dedicated young people were able to do to shape the fabric of our society for the better. Not despite being in their early '20s, but specifically because they were in their early '20s." Our collective challenge to any young person is "So what will you do when you're 20?" Each person gets to determine that—but as we should all know too well, this is not a drill. It never was. We want everyone to understand not only the potential for changing our society, but the urgency of doing so, and the constant vigilance required to maintain any gains toward equality.
Do you think March will go on in a 4th edition or has the story been fulfilled?
We've just announced Run, which has my collaborators John Lewis and Andrew Aydin teaming up again with a fantastic artist, Afua Richardson, to follow John Lewis' path from direct action to public service in the latter half of the 1960s. This part of the story was initially to be included in March, but we couldn't figure out how to make it work best as part of the same narrative arc. It's weird to talk about actual history from a storytelling perspective, but ultimately we determined that, by John Lewis' account, the civil rights movement as he knew it both closed and shifted with the passage of the Voting Rights Act in 1965. We had to acknowledge that March, as a book, ended there, and needed to provide space for the next stage to open.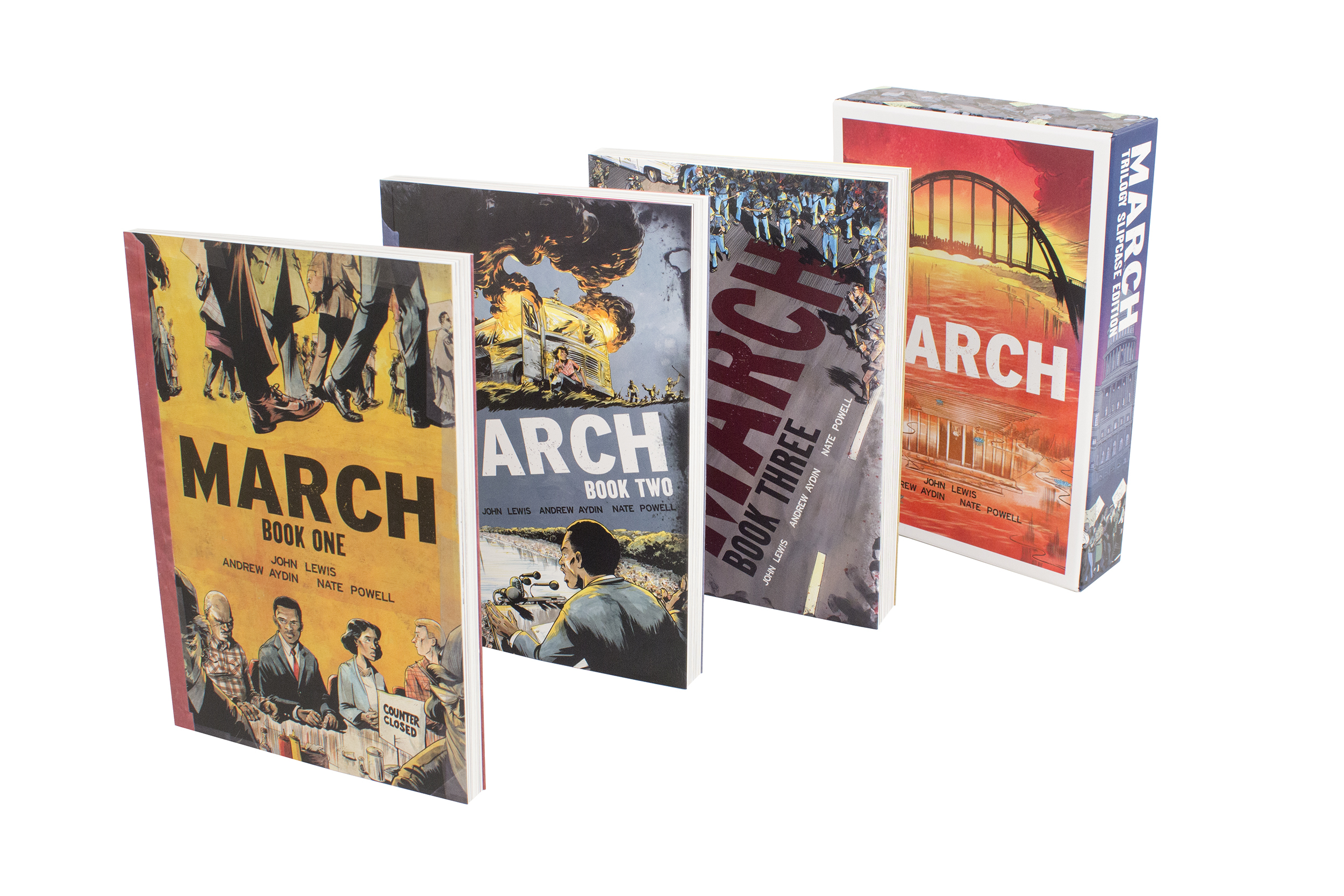 What's next for you?
I just finished my new solo graphic novel, Come Again, which I actually started before the March trilogy but had to put on the back burner. It'll be out this July from Top Shelf, and is by far my favorite book I've ever done. This coming week I'm returning to another shelved project, Two Dead, which I started with writer Van Jensen back in 2014. After these backed-up books are finished, I have three more solo books in the chamber, as well as forthcoming collaborations with Cecil Castellucci and Jeff Lemire. It's going to take years to get them all done, but I look forward to the time spent.
"The Art of MARCH: A Civil Rights Masterpiece" exhibit opens February 28 at the Society of Illustrators in New York and runs through June 30. The opening reception takes place Thursday, March 1 at 6pm.